Role of a critical visceral adipose tissue threshold (CVATT) in metabolic syndrome: implications for controlling dietary carbohydrates: a review
Nutrition & Metabolism
2004
1:12
Received: 20 September 2004
Accepted: 05 November 2004
Published: 05 November 2004
Abstract
There are likely many scenarios and pathways that can lead to metabolic syndrome. This paper reviews mechanisms by which the accumulation of visceral adipose tissue (VAT) may contribute to the metabolic syndrome, and explores the paradigm of a critical VAT threshold (CVATT). Exceeding the CVATT may result in a number of metabolic disturbances such as insulin resistance to glucose uptake by cells. Metabolic profiles of patients with visceral obesity may substantially improve after only modest weight loss. This could reflect a significant reduction in the amount of VAT relative to peripheral or subcutaneous fat depots, thereby maintaining VAT below the CVATT. The CVATT may be unique for each individual. This may help explain the phenomena of apparently lean individuals with metabolic syndrome, the so-called metabolically normal weight (MONW), as well as the obese with normal metabolic profiles, i.e., metabolically normal obese (MNO), and those who are "fit and fat." The concept of CVATT may have implications for prevention and treatment of metabolic syndrome, which may include controlling dietary carbohydrates. The identification of the CVATT is admittedly difficult and its anatomical boundaries are not well-defined. Thus, the CVATT will continue to be a work in progress.
Keywords
Insulin Resistance
Metabolic Syndrome
Visceral Adipose Tissue
Glycemic Index
Glycemic Load
Introduction
Arguably, the major pathogenic factor in the metabolic syndrome is central obesity [1, 2]. While abdominal obesity is determined by the accumulation of both subcutaneous adipose tissue (SCAT) and visceral adipose tissue (VAT), the excess accumulation of VAT appears to play a more significant pathogenic role. VAT depots, located in the body cavity beneath the abdominal muscles, are composed of the greater and lesser omentum (peritoneum that is attached to the stomach and links it with other abdominal organs) and the mesenteric fat. A lesser amount of VAT is located retroperitoneally. In general, VAT accounts for up to 20 percent of total fat in men and 5–8 percent in women. The abdominal SCAT is located immediately beneath the skin and on top of the abdominal musculature. The predominance of lower body fat is SCAT, most of which is stored in the femoral and gluteal regions [3–5]. Abdominal obesity can reflect a predominance of flabby SCAT; a firm, only modestly enlarged waist line resulting from deep VAT pushing the abdominal musculature outward; or a combination of enlarged SCAT and VAT depots. With the advent of more precise imaging techniques, e.g., magnetic resonance imaging (MRI) [6], computed tomography (CT) [7], and ultrasound [8], it has become evident that the accumulation of VAT not only accompanies but antedates the onset of the components of the metabolic syndrome and related disorders, e.g., insulin resistance, hypertension [9], glucose intolerance [10], type 2 diabetes, and coronary heart disease [11].
To date, it has not yet been established that insulin resistance, i.e., resistance of cells to insulin's effects, is responsible for the onset of the multiple risk factors associated with insulin resistance syndrome and subsequent development of atherosclerosis and cardiac events [12]. In fact, National Cholesterol Education Program Adult Treatment Panel (ATP III) criteria for Metabolic Syndrome have been found to have a low sensitivity for predicting insulin resistance [13–15] and may be better thought of as predictors for cardiovascular risk [16]. In a recent study of a large number of apparently healthy men and women of varying age, VAT area was significantly associated with all of the metabolic syndrome criteria as defined by the NCEP ATP III. This was independent of insulin sensitivity and SCAT area. Insulin sensitivity was found to be independently associated with the criteria for HDL cholesterol, triglycerides (TGs), and fasting plasma glucose (FPG). SCAT area was independently correlated with only waist circumference after adjusting for VAT area and insulin sensitivity [11]. In addition, the study results showed that clinical assessments of increased waist size and TG levels are strongly associated with decreased insulin sensitivity and increased VAT in individuals with fasting FPG <6.4 mmol/L [11].
The term "metabolic syndrome" is now preferable to "insulin resistance syndrome," and has a prevalence of 25 percent in U.S. individuals age >20, rising to >40 percent by age 60 [17]. The importance of central obesity is well-recognized in the definitions of metabolic syndrome [18] per the American College of Endocrinology, [19, 20] National Cholesterol Education Program Adult Treatment Panel (ATP III), [21] European Group for the Study of Insulin Resistance, [22] and World Health Organization (WHO) [23]. However, even apparently lean individuals with normal BMIs can have a significant accumulation of VAT with increased risk factors for cardiovascular disease and diabetes (metabolically obese normal weight; MONW) [24–26]. Meanwhile, obese individuals with large BMIs but relatively little VAT can present with normal metabolic profiles and a paucity of risk factors for metabolic syndrome, cardiovascular disease, and diabetes, i.e., the metabolically normal obese; MNO) [5, 27].
Summary
The role of visceral adipose tissue (VAT) obesity in metabolic syndrome is critical and complex. (See figure
3
). The paradigm of an individual critical VAT threshold (CVATT) has been presented along with a review of potential mechanisms and contributing factors. This includes the potential role of dietary carbohydrates in VAT obesity. As this area continues to evolve, perhaps the reviewed material and proposed concepts may have relevance to clinical assessment, prevention, and treatment of metabolic syndrome.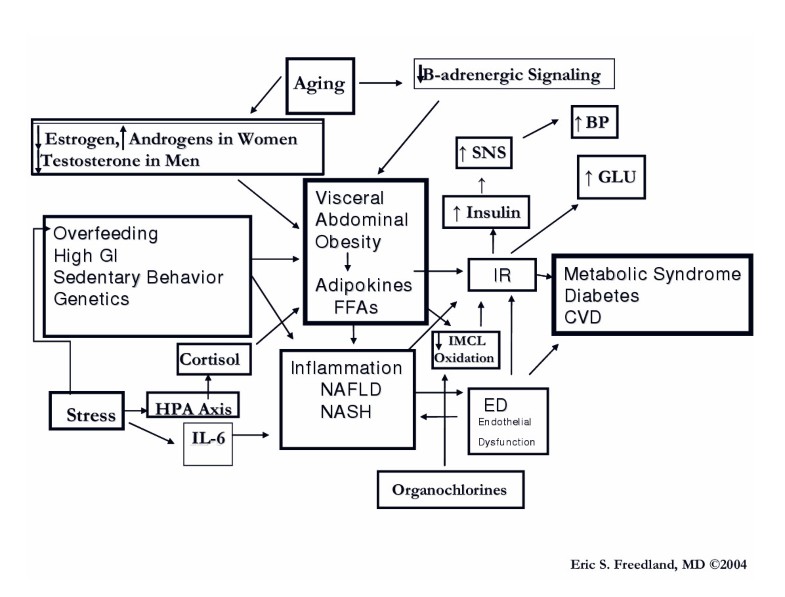 Authors' Affiliations
(1)
Boston University School of Medicine, Marblehead, USA
Copyright
© Freedland; licensee BioMed Central Ltd. 2004
This article is published under license to BioMed Central Ltd. This is an Open Access article distributed under the terms of the Creative Commons Attribution License (http://creativecommons.org/licenses/by/2.0), which permits unrestricted use, distribution, and reproduction in any medium, provided the original work is properly cited.