The pivotal role of pyruvate dehydrogenase kinases in metabolic flexibility
Nutrition & Metabolism
2014
11:10
Received: 17 December 2013
Accepted: 8 February 2014
Published: 12 February 2014
Abstract
Metabolic flexibility is the capacity of a system to adjust fuel (primarily glucose and fatty acids) oxidation based on nutrient availability. The ability to alter substrate oxidation in response to nutritional state depends on the genetically influenced balance between oxidation and storage capacities. Competition between fatty acids and glucose for oxidation occurs at the level of the pyruvate dehydrogenase complex (PDC). The PDC is normally active in most tissues in the fed state, and suppressing PDC activity by pyruvate dehydrogenase (PDH) kinase (PDK) is crucial to maintain energy homeostasis under some extreme nutritional conditions in mammals. Conversely, inappropriate suppression of PDC activity might promote the development of metabolic diseases. This review summarizes PDKs' pivotal role in control of metabolic flexibility under various nutrient conditions and in different tissues, with emphasis on the best characterized PDK4. Understanding the regulation of PDC and PDKs and their roles in energy homeostasis could be beneficial to alleviate metabolic inflexibility and to provide possible therapies for metabolic diseases, including type 2 diabetes (T2D).
Keywords
PDCPDKMetabolic flexibility
Introduction
Maintaining a balance between energy demand and supply is critical for health. Glucose and lipids (fatty acids and ketone bodies), as sources of cellular energy, can compete and interact with each other [1]. The capacity for an organism to adapt fuel oxidation to fuel availability, that is, to preferentially utilize carbohydrate and lipid fuels and to be able to rapidly switch between them is termed metabolic flexibility [2, 3]. The failure to match fuel oxidation to changes in nutrient availability is often accompanied by symptoms such as insulin resistance, ectopic lipid accumulation and mitochondrial dysfunction [3, 4]. Thus, metabolic inflexibility is tightly related to a series of syndromes such as type 2 diabetes (T2D), obesity, cardiovascular disease and metabolic syndrome.
One of the major enzymes responsible for metabolic flexibility in mammals is the pyruvate dehydrogenase complex (PDC), a mitochondrial multi-enzyme complex that catalyzes the oxidative decarboxylation of pyruvate [
5
]. PDC controls the conversion of pyruvate, Coenzyme A (CoA) and NAD
+
into acetyl-CoA, NADH and CO
2
, and thus links fatty acid metabolism, glucose metabolism and the tricarboxylic acid (TCA) cycle [
6
]. The CoA-activated two-carbon unit produced by the catabolism of pyruvate can be condensed with oxaloacetate in the first reaction of the TCA cycle, or used for fatty acid and cholesterol synthesis [
7
]. Pyruvate may also be conserved for gluconeogenesis in liver and kidney [
8
]. Thus, the PDC occupies a central position in cellular energy metabolism (Figure
1
).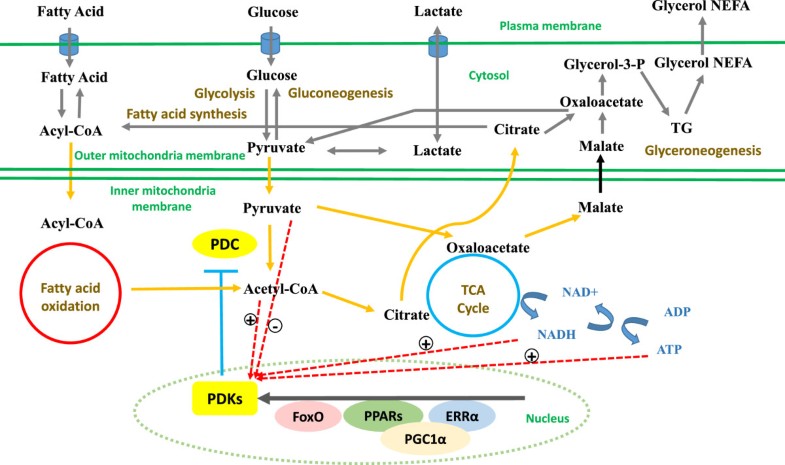 PDC is more active in the healthy and well-fed state. However, suppression of PDC is crucial for glucose synthesis when glucose is scarce [
9
]. The inactivation of PDC activity is catalyzed by four highly specific pyruvate dehydrogenase (PDH) kinase (PDK) isozymes that can phosphorylate specific serine residues within the α subunit of the E1 enzyme in the PDC [
5
,
10
]. Of all the known isozymes, PDK2 and PDK4 are the most widely distributed and are highly expressed in heart, liver and kidney in humans and rodents. PDK4 is also abundant in pancreatic islets and in skeletal muscles that have high glucose utilization and fatty acid oxidation rates. PDK1 and PDK3 have rather limited tissue distribution [
11
]. The PDKs activities can be regulated by different levels of metabolites as well as transcription factors under various conditions and in different tissues (Figure
2
). Thus the PDC can manage the utilization and storage of fuels to fulfill metabolic flexibility in response to the environment.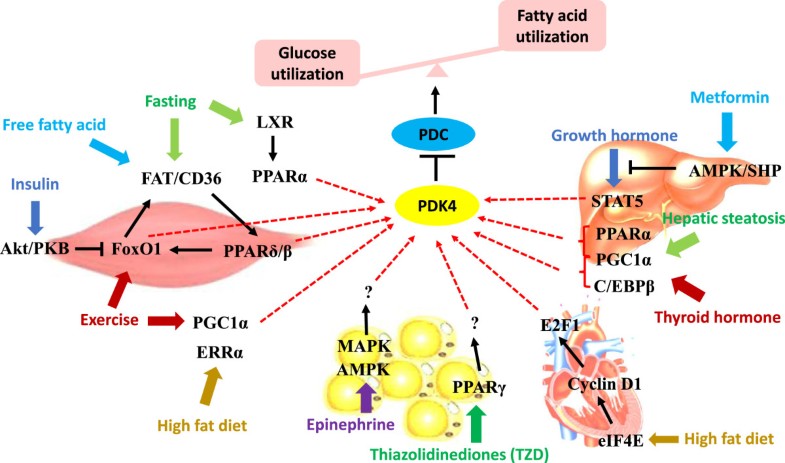 This review summarizes the recent studies on PDKs pivotal role in controlling metabolic flexibility, a recent concept in cellular energy metabolism, under various nutritional conditions (energy deprivation, high fat diet consumption, exercise and disease) in diverse tissues (skeletal muscle, liver, white adipose tissue, heart, pancreatic islets and nervous system), with emphasis on the best characterized PDK4. Understanding the regulation of PDKs in different tissues and their roles in energy homeostasis will be beneficial for treatment of different kinds of metabolic diseases.
Conclusions
As the major fuels for substrate oxidation to provide energy in mammals and human beings, glucose and fatty acids can compete with each other at the level of the PDC. PDC is normally active in most tissues in the well-fed state. However, suppression of PDC activity by PDKs is crucial to provide pyruvate and other three-carbon compounds for glucose synthesis when glucose is in demand. PDKs play a pivotal role in stable substrate switching and energy homeostasis, which is known as metabolic flexibility, especially under some extreme nutrient conditions.
The alteration of PDKs expression, particularly PDK4, has a tremendous influence on the health status of the organism. Inhibition of PDK4 can benefit specific tissues, such as skeletal muscle, liver and heart, but up-regulation of PDK4 is beneficial in white adipose tissue in obese and insulin resistant rodents. This can be due to tissue-specific physiology. Glucose is the major fuel source for most tissues, inhibition of PDK4 thereby leading to PDC activation and more glucose oxidation. As the major lipid storage organ, white adipose tissue can take advantage of fatty acids as an energy source, thus increased glyceroneogenesis caused by up-regulated PDK4 is beneficial. The tissue-specific physiology also involves diverse transcriptional regulation pathways, involving transcription factors such as FoxO and PPARs (Figure 2).
Metabolic inflexibility, combined with abnormal PDKs activity, is directly associated with many diseases, such as T2D, obesity, metabolic disorders, cardiomyopathy, neurological disorders and several cancers. Future research on PDC and PDKs regulation in various conditions and different tissues will be beneficial to alleviate metabolic inflexibility and to provide possible therapies for numerous diseases.
Abbreviations
Akt/PKB:

Protein kinase B
AMPK:

5'-AMP-activated protein kinase
Ang II:

Angiotensin II
CD36:

Cluster of differentiation 36
C/EBPβ:

CCAAT/enhancer-binding protein β
DCA:

Dichloroacetate
DHAP:

Dihydroxyacetone phosphate
eIF4E:

Eukaryotic initiation factor 4E
ERRα:

Estrogen related receptor α
FAT:

Fatty acid transporter
FoxO:

Forkhead box protein O
G3P:

Glycerol-3-phosphate
GH:

Growth hormone
GSIS:

Glucose simulated insulin secretion
IRS 1/2:

Insulin receptor substrates 1 and 2
LXR:

Liver X receptor
MAPK:

p38 mitogen-activated protein kinase
PDC:

Pyruvate dehydrogenase complex
PDH:

Pyruvate dehydrogenase
PDK:

Pyruvate dehydrogenase kinase
PEPCK:

Phosphoenolpyruvate carboxykinase
PGC1α:

PPARγ co-activator 1α
ROS:

Reactive oxygen species
PPARs:

Peroxisome proliferator-activated receptors
SHP:

Small heterodimer partner
STAT5:

Signal transducer and activator of transcription 5
T2D:

Type 2 diabetes
T3:

Thyroid hormone
TAG:

Triacylglycerol
TCA:

Tricarboxylic acid
TZD:

Thiazolidinediones
WAT:

White adipose tissue.
Declarations
Acknowledgements
Paul B. Siegel is acknowledged for comments on the manuscript.
Authors' Affiliations
(1)
Department of Animal and Poultry Sciences, Virginia Tech, Blacksburg, USA
(2)
Department of Human Nutrition, Foods and Exercise and Metabolic Phenotyping Core, Virginia Tech, Blacksburg, USA
(3)
3200 Litton-Reaves, Animal & Poultry Sciences Department, Virginia Tech, Blacksburg, USA
Copyright
© Zhang et al.; licensee BioMed Central Ltd. 2014
This article is published under license to BioMed Central Ltd. This is an Open Access article distributed under the terms of the Creative Commons Attribution License (http://creativecommons.org/licenses/by/2.0), which permits unrestricted use, distribution, and reproduction in any medium, provided the original work is properly credited. The Creative Commons Public Domain Dedication waiver (http://creativecommons.org/publicdomain/zero/1.0/) applies to the data made available in this article, unless otherwise stated.