Guinea pigs: A suitable animal model to study lipoprotein metabolism, atherosclerosis and inflammation
Nutrition & Metabolism
2006
3:17
Received: 23 February 2006
Accepted: 27 March 2006
Published: 27 March 2006
Abstract
Numerous animal models have been used to study diet effects on cholesterol and lipoprotein metabolism. However, most of those models differ from humans in the plasma distribution of cholesterol and in the processing of lipoproteins in the plasma compartment. Although transgenic or knock-out mice have been used to study a specific pathway involved in cholesterol metabolism, these data are of limited use because other metabolic pathways and responses to interventions may differ from the human condition.
Carbohydrate restricted diets have been shown to reduce plasma triglycerides, increase HDL cholesterol and promote the formation of larger, less atherogenic LDL. However, the mechanisms behind these responses and the relation to atherosclerotic events in the aorta have not been explored in detail due to the lack of an appropriate animal model. Guinea pigs carry the majority of the cholesterol in LDL and possess cholesterol ester transfer protein and lipoprotein lipase activities, which results in reverse cholesterol transport and delipidation cascades equivalent to the human situation. Further, carbohydrate restriction has been shown to alter the distribution of LDL subfractions, to decrease cholesterol accumulation in aortas and to decrease aortic cytokine expression. It is the purpose of this review to discuss the use of guinea pigs as useful models to evaluate diet effects on lipoprotein metabolism, atherosclerosis and inflammation with an emphasis on carbohydrate restricted diets.
Keywords
CholesterolBile AcidCholesteryl Ester Transfer ProteinLipoprotein MetabolismHepatic Cholesterol
Background
The use of appropriate animal models to determine the effects of dietary interventions on metabolic process and gene expression regulating cholesterol and lipoprotein metabolism is essential to understand the mechanisms underlying the reported effects on plasma lipids. In our previous reviews, we have shown the suitability of guinea pigs to study alterations on cholesterol and lipoprotein metabolism induced by diet [1] and by drug treatment [2]. More recent studies in this animal model evaluating diet-induced atherosclerosis [3, 4], and dietary effects on alterations in the morphology and concentration of specific lipoprotein subfractions [5] add support to the appropriateness of this model.
The most striking similarity between guinea pigs and humans is that the majority of circulating cholesterol is transported in LDL [
6
]. Other rodents present major differences in lipoprotein cholesterol distribution and even genetic manipulations result in dissimilar lipoprotein profiles when compared to humans (Figure
1
).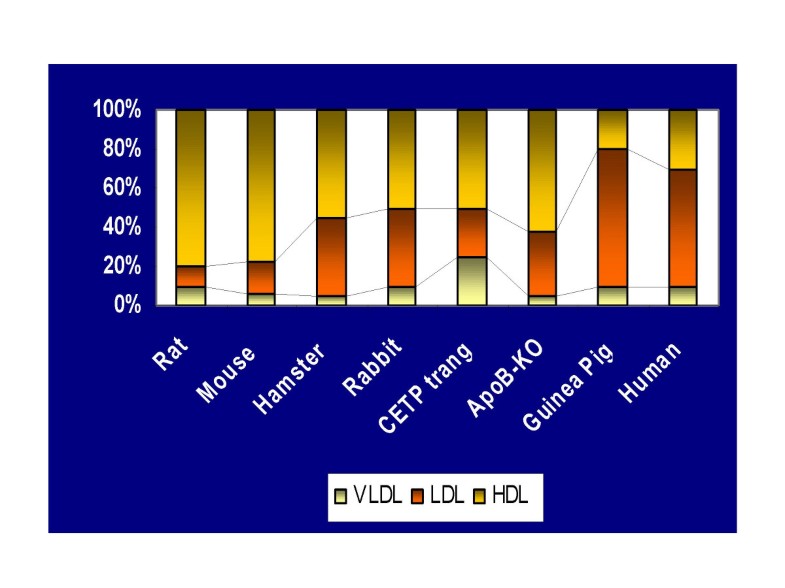 Other key points supporting the use of guinea pigs as models for human cholesterol and lipoprotein metabolism include: 1. Higher concentrations of free compared to esterified cholesterol in the liver [7] as shown in reports from clinical studies [8]. 2. In contrast to other rodents [9], guinea pigs possess plasma cholesteryl ester transfer protein (CETP) activity [10], a critical component for human reverse cholesterol transport [11]. 3. Guinea pigs also have lecithin:cholesterol acyltransferase (LCAT) [12], and lipoprotein lipase (LPL) [13] activities that contribute to remodeling of plasma lipoproteins, which results in the formation of lipoprotein subclasses with different morphologies and physiologic functions including their role in lipid accumulation in the aorta and development of the atherosclerotic plaque; 4. Comparable to humans [14, 15], guinea pigs exhibit moderate rates of hepatic cholesterol synthesis [16] and catabolism [17]. 5. Similar to humans, the binding domain for the LDL receptor differentiates between normal and familial binding defective apo B-100 [18]. 6. Apo B mRNA editing in liver is present in negligible amounts (< 1%) compared to 18 to 70% in other species [19]; 7. Guinea pigs require dietary vitamin C [20], an important anti-oxidant that may play a role in oxidation and atherosclerosis. 8. Females have higher HDL levels than males and ovariectomized guinea pigs have a plasma lipid profile similar to post-menopausal women [21]. 9. In response to exercise, guinea pigs lower plasma triglycerides (TG) and increase plasma HDL cholesterol (HDL-C) [22]. 10. Guinea pigs respond to dietary fat saturation [23], dietary cholesterol [24] and dietary fiber [25] by alterations in LDL cholesterol. 11. In contrast to hamsters they do not possess a fore-stomach, which ferments fiber before reaching the small intestine [26]. 12. It has also been shown that guinea pigs are good models for studying the mechanisms by which statins [27], cholestyramine [28], apical sodium bile acid transport (ASBT) inhibitors [29] lower plasma LDL cholesterol. More recently, we have demonstrated that guinea pigs can also be used to study the mechanisms by which certain drugs affect triglyceride metabolism [30, 31]
Conclusion
In this review, we have demonstrated that guinea pigs are excellent models to evaluate the mechanisms by which diet interventions and drug treatments alter plasma lipids and lipoprotein metabolism. Further, we have shown that guinea pigs have an inflammatory response and develop atherosclerosis when challenged with a high cholesterol diet and that diet treatment (as in the case of carbohydrate restriction) may prove to be beneficial in reducing the expression of inflammatory cytokines and atherosclerosis development. Further the guinea pig is proposed to evaluate in depth the metabolic alterations induced by CRD, which substantially improve plasma lipid profiles
Abbreviations
ACAT:

acyl CoA cholesteryl acyltransferase, Apo: apolipoprotein
Bmax:

Maximal binding, ASBT: apical sodium bile acid transporters
CE:

cholesteryl ester
CETP:

cholesterol ester transfer protein
CETP transg:

CETP transgenic
CRD:

carbohydrate restricted diets
CYP7:

Cholesterol 7α-hydroxylase
FC:

free cholesterol
GM-CSF:

granulocyte-macrophage colony stimulatory factor
HDL-C:

HDL-cholesterol, HMG-CoA: 3-hydroxy-3-methylglutaryl coenzyme A
IL-6:

interleukin 6, INF: interferon
LDL-C:

LDL cholesterol
LCAT:

lecithin-cholesterol acyltransferase
LPL:

lipoprotein lipase
MONO:

monounsaturated
mTOR:

mamamalian target of rapamycin, MTP: microsomal transfer protein PUFA: polyunsaturated
SAT:

saturated
TG:

triglycerides
TNF-α:

tumor necrosis factor alpha
VLDL-C:

VLDL cholesterol
Authors' Affiliations
(1)
Department of Nutritional Sciences University of Connecticut, Storrs, USA
(2)
Department of Kinesiology University of Connecticut, Storrs, USA
Copyright
© Fernandez and Volek; licensee BioMed Central Ltd. 2006
This article is published under license to BioMed Central Ltd. This is an Open Access article distributed under the terms of the Creative Commons Attribution License (http://creativecommons.org/licenses/by/2.0), which permits unrestricted use, distribution, and reproduction in any medium, provided the original work is properly cited.