Hypothalamus-adipose tissue crosstalk: neuropeptide Y and the regulation of energy metabolism
Nutrition & Metabolism
2014
11:27
Received: 2 May 2014
Accepted: 2 June 2014
Published: 10 June 2014
Abstract
Neuropeptide Y (NPY) is an orexigenic neuropeptide that plays a role in regulating adiposity by promoting energy storage in white adipose tissue and inhibiting brown adipose tissue activation in mammals. This review describes mechanisms underlying NPY's effects on adipose tissue energy metabolism, with an emphasis on cellular proliferation, adipogenesis, lipid deposition, and lipolysis in white adipose tissue, and brown fat activation and thermogenesis. In general, NPY promotes adipocyte differentiation and lipid accumulation, leading to energy storage in adipose tissue, with effects mediated mainly through NPY receptor sub-types 1 and 2. This review highlights hypothalamus-sympathetic nervous system-adipose tissue innervation and adipose tissue-hypothalamus feedback loops as pathways underlying these effects. Potential sources of NPY that mediate adipose effects include the bloodstream, sympathetic nerve terminals that innervate the adipose tissue, as well as adipose tissue-derived cells. Understanding the role of central vs. peripherally-derived NPY in whole-body energy balance could shed light on mechanisms underlying the pathogenesis of obesity. This information may provide some insight into searching for alternative therapeutic strategies for the treatment of obesity and associated diseases.
Keywords
Adipose tissue
Hypothalamus
neuropeptide Y
Obesity
Sympathetic nervous system
Thermogenesis
Introduction
Obesity is defined as a state of increased adiposity resulting from chronic nutrient excess, where energy intake significantly exceeds energy expenditure[1]. Energy intake is reflected by food intake and energy expenditure can be affected by basal metabolism, physical activity, and thermogenesis[2]. Dysregulation of either central or peripheral signals may lead to a state of anorexia or obesity. According to the Center for Disease Control in 2011–2012, more than one third of all U.S. adults are considered to be overweight or obese and these numbers are expected to continue to rise. The rise in obesity, a predisposing factor for developing diabetes, hypertension, hyperlipidemia, cancer and other disorders, has driven a major interest in the regulation of appetite, food intake and fat accumulation[3]. Energy homeostasis is governed by a complex neuroendocrine system including appetite regulatory hypothalamic peptides, as well as adipocyte-derived peripheral signals such as leptin. These signals act in a reciprocal manner to integrate information about energy status, a system referred to as the hypothalamus-adipose tissue axis. The recognition of the importance of the hypothalamus-adipose tissue axis in energy balance has propelled studies aimed at understanding the roles of adipose- and hypothalamic-derived peptides on energy intake, storage and expenditure.
One of the major regulators of energy intake, neuropeptide Y (NPY), has emerged as an important player in the hypothalamus-adipose tissue axis. Neuropeptide Y, a 36 amino acid peptide, is one of the most potent orexigenic hypothalamic neuropeptides identified to date[4]. Depending on the anatomical location and the receptor sub-type, NPY is also involved in other physiological processes such as locomotion, learning and memory, anxiety, epilepsy, circadian rhythm, and cardiovascular function[3]. The goal of this review is to provide a more in-depth and holistic understanding of the role of NPY in energy homeostasis, bridge the gap between appetite/central nervous system and adipose tissue/peripheral studies, as well as define current challenges and possible future study directions. To emphasize the potential dual roles of NPY in energy intake and energy storage/expenditure, we highlight the idea of hypothalamus and adipose tissue crosstalk and the connection to the sympathetic nervous system. Numerous studies demonstrate that NPY is a major mediator in promoting energy storage, positing that it could serve as a potential biomarker for obesity. Consistent with this hypothesis, the NPY receptor sub-type 5 (NPYR5) antagonist, velneperit, has been recently explored in clinical testing as a potential anti-obesity drug[5]. Therefore, a better understanding of the mechanisms of how NPY influences body adiposity may facilitate therapeutic interventions for obesity.
Conclusions and implications
Neuropeptide Y stimulates food intake and white fat deposition and at the same time reduces brown fat activation and consequently thermogenesis, yielding a net accumulation of energy via enhanced energy intake and storage (Figure
3
). The function of NPY is determined by site-specific NPY and NPY receptor-subtype expression, NPY release, degradation, and concentrations in the circulation, all of which are regulated by numerous energy balance strategies. This provides tight regulation of an essential system to ensure that the NPY signals can respond rapidly and for prolonged durations during short and long-term control of energy homeostasis in various food-accessible conditions. Understanding the role of NPY in energy homeostasis has critical implications for biomedical applications, the most common pharmacological therapies nowadays for obesity involving gastrointestinal surgery and pharmacological interventions. Drugs that are intended for weight loss affect either metabolism by reducing absorption of nutrients from food or through the CNS by decreasing appetite and increasing energy expenditure. In light of the purported systemic role of NPY, it becomes a promising candidate for controlling the development and treatment of obesity. Whether NPY can be used as a biomarker for obesity awaits further determination. A body of studies aimed to manipulate NPY and NPY receptor-subtype function highlight the feasibility of targeting the NPY system for therapeutic strategies. However, the mechanisms underlying the effects of NPY are complicated, especially in view of brain-adipose cross talk.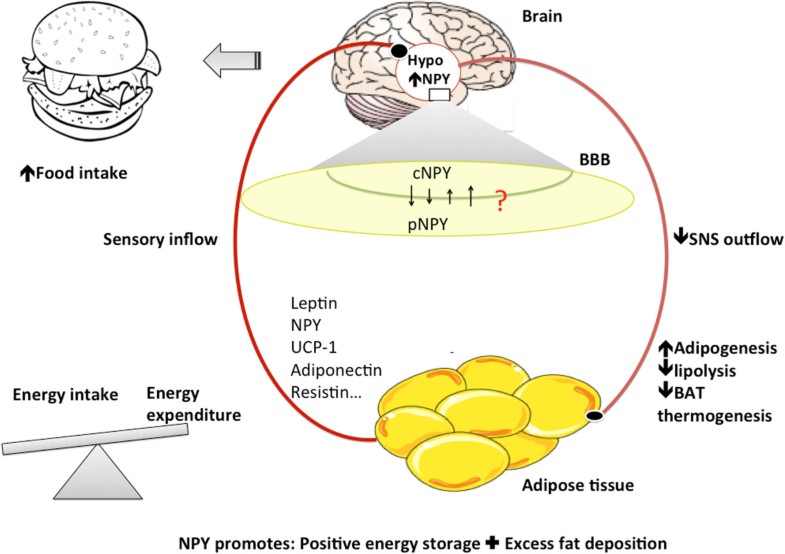 Abbreviations
AD-3:

Pre-adipocyte membrane protein 3
AgRP:

Agouti-related peptide
ARC:

Arcuate nucleus of the hypothalamus
BAT:

Brown adipose tissue
cAMP:

Cyclic adenosine monophosphate
CNS:

Central nervous system
DMN:

Dorsomedial nucleus
EPI:

Epinephrine
ERK:

Extracellular signal-regulated kinase
FABP4:

Fatty acid-binding protein 4
ICV:

Intracerebroventricular
LH:

Lateral hypothalamus
LPL:

Lipoprotein lipase
MC3R:

Melanocortin receptor 3
MC4R:

Melanocortin receptor 4
NPYR:

Neuropeptide Y receptor
NPY:

Neuropeptide Y
NPYR1:

Neuropeptide Y receptor sub-type 1
NPYR2:

Neuropeptide Y receptor sub-type 2
NPYR5:

Neuropeptide Y receptor sub-type 5
NE:

Norepinephrine
OHDA:

6-hydroxydopamine
PGC1α:

Peroxisome proliferator activated receptor-γ coactivator −1 α
PKA:

Protein kinase A
PPARγ:

Peroxisome proliferator-activated receptor γ
PREF-1:

Preadipocyte factor 1
PRV:

Pseudorabies virus
PVN:

Paraventricular nucleus
SVF:

Stromal-vascular fraction
SNS:

Sympathetic nervous system
TAG:

Triacylglycerol
TH:

Tyrosine hydroxylase
UCP1:

Uncoupling protein 1
VMN:

Ventromedial nucleus
WAT:

White adipose tissue.
Authors' Affiliations
(1)
3200 Litton-Reaves, Animal & Poultry Sciences Department, Virginia Tech, Blacksburg, USA
Copyright
© Zhang et al.; licensee BioMed Central Ltd. 2014
This article is published under license to BioMed Central Ltd. This is an Open Access article distributed under the terms of the Creative Commons Attribution License (http://creativecommons.org/licenses/by/4.0), which permits unrestricted use, distribution, and reproduction in any medium, provided the original work is properly credited. The Creative Commons Public Domain Dedication waiver (http://creativecommons.org/publicdomain/zero/1.0/) applies to the data made available in this article, unless otherwise stated.