Lifestyle-induced metabolic inflexibility and accelerated ageing syndrome: insulin resistance, friend or foe?
Nutrition & Metabolism
2009
6:16
Received: 12 August 2008
Accepted: 16 April 2009
Published: 16 April 2009
Abstract
The metabolic syndrome may have its origins in thriftiness, insulin resistance and one of the most ancient of all signalling systems, redox. Thriftiness results from an evolutionarily-driven propensity to minimise energy expenditure. This has to be balanced with the need to resist the oxidative stress from cellular signalling and pathogen resistance, giving rise to something we call 'redox-thriftiness'. This is based on the notion that mitochondria may be able to both amplify membrane-derived redox growth signals as well as negatively regulate them, resulting in an increased ATP/ROS ratio. We suggest that 'redox-thriftiness' leads to insulin resistance, which has the effect of both protecting the individual cell from excessive growth/inflammatory stress, while ensuring energy is channelled to the brain, the immune system, and for storage. We also suggest that fine tuning of redox-thriftiness is achieved by hormetic (mild stress) signals that stimulate mitochondrial biogenesis and resistance to oxidative stress, which improves metabolic flexibility. However, in a non-hormetic environment with excessive calories, the protective nature of this system may lead to escalating insulin resistance and rising oxidative stress due to metabolic inflexibility and mitochondrial overload. Thus, the mitochondrially-associated resistance to oxidative stress (and metabolic flexibility) may determine insulin resistance. Genetically and environmentally determined mitochondrial function may define a 'tipping point' where protective insulin resistance tips over to inflammatory insulin resistance. Many hormetic factors may induce mild mitochondrial stress and biogenesis, including exercise, fasting, temperature extremes, unsaturated fats, polyphenols, alcohol, and even metformin and statins. Without hormesis, a proposed redox-thriftiness tipping point might lead to a feed forward insulin resistance cycle in the presence of excess calories. We therefore suggest that as oxidative stress determines functional longevity, a rather more descriptive term for the metabolic syndrome is the 'lifestyle-induced metabolic inflexibility and accelerated ageing syndrome'. Ultimately, thriftiness is good for us as long as we have hormetic stimuli; unfortunately, mankind is attempting to remove all hormetic (stressful) stimuli from his environment.
Keywords
Insulin ResistanceMetabolic SyndromeResveratrolCalorie RestrictionVisceral Adipose Tissue
Introduction
The nutritional milieu which modern humans have created for themselves is leading to rampant levels of obesity, type II diabetes (T2D) and insulin resistance [1]. This is resulting in a reduction in life expectancy.
The condition that precedes T2D, the 'metabolic syndrome', is currently defined as central obesity plus two factors: raised triglycerides (TGs), reduced HDL, hypertension and evidence of pathological insulin resistance, such as raised fasting plasma glucose (FPG, now defined as > 5.6 mM) or previous diabetes [2]. Sources of oxidative stress include fat overloaded cells in visceral adipose tissue (VAT) and the liver [3–6], and may represent 'metabolically triggered inflammation' or 'meta-inflammation' [7]. The metabolic syndrome is also associated with increased activity of the hypothalamic pituitary adrenal axis (HPA) and sympathetic nervous system (SNS), raised cortisol levels, and sex-specific alterations in androgens, which may represent an inability to adapt to an increased 'allostatic' workload [8]. The metabolic syndrome may therefore represent a metabolically inflexible phenotype, in which mitochondrial function and capacity for fuel usage are critical factors [9].
The metabolic syndrome is a continuum and may sit at the opposite end of the oxidative stress spectrum to the long-lived phenotype induced by calorie restriction [10]. A common feature of these two phenotypes is the involvement of the insulin/insulin-like growth factor axis, where the reduced activity associated with calorie restriction increases activity of the DAF 16/FOXO (forkhead) stress resistance transcription factors first described in Caenorhabditis elegans [11]; increased activity of these factors, in turn, can inhibit insulin signalling [12]. In evolutionary terms, insulin resistance may be good, as it ensures deposition of fat [13] and reduces oxidative redox signalling-induced stress, especially in muscle and adipocytes [14, 15]. Indeed, thriftiness, which encapsulates insulin resistance, can be viewed as being genetically canalised and is a complex trait that most higher organisms exhibit. As well as an immediate response to famine, an emerging concept is that organisms can also be predisposed to it epigenetically via imprinting from their parents or even grandparents [16]. In human terms, different races, due to climate and geography, may well have slightly different predispositions to it – which may be reflected in differing fat distributions [17, 18]. For instance, races with 'cold-genes' may be better protected [19]. An important organelle in this process is the mitochondrion: their ATP/ROS efficiency seems to improve during calorie restriction, but decreases in the metabolic syndrome and diabetes [20–22]. Mitochondria play a very important role in the aging process [23], and thus, modulation of oxidative stress.
We believe that it is now possible to provide a basic hypothesis to explain insulin resistance and the metabolic syndrome by studying redox signalling. In short, insulin resistance is determined by the ability to resist oxidative stress ('redox-thriftiness'), which is itself modulated by mitochondrial hormesis ('preconditioning') and thus, hormetic stimuli like physical activity and fasting. The development of the metabolic syndrome could then be defined by a "thrifty-inflammatory tipping point" – the point when insulin resistance goes from being thrifty (e.g. generally restricted to the musculature) to inflammatory (involving more tissues, such as adipose tissue). We propose that temporal and tissue specific insulin resistance is a friend as long as you live within your hormetic zone, but it may become your enemy in a modern sedentary environment. This paper outlines the underlying mechanisms relating to 'redox-thriftiness', its relationship to an ancient redox signalling mechanism, and how it might be modified. The list of potential hormetic stimuli may extend to include plant polyphenols, unsaturated fats and alcohol, as well as some pharmaceuticals, such as metformin and the statins. Ultimately, the term 'metabolic syndrome' is not truly descriptive of the condition now afflicting a large fraction of mankind. We propose a more appropriate term might be the 'L ifestyle-I nduced M etabolic I nflexibiliT y and accelerated AGE ing', or, 'LIMIT-AGE' syndrome. The ultimate conclusion from this may be that 'thriftiness' is only bad for us without hormetic stimuli; a situation that very rarely occurred in prehistoric times – until humans made their environment almost totally risk and hormetic stress free. It is likely that any level of hormesis is better than none: this may be critical in reintroducing 'postive hormetic stressors' into a modern lifestyle.
Insulin resistance and FOXO – built in safety?
Excessive insulin signalling can shorten lifespan by reducing a key stress resistance transcription factor, FOXO (forkhead box class-O 1). FOXO in turn can inhibit insulin signalling. Data might suggest that FOXO may well be very active in the metabolic syndrome as a protective response at the cellular level.
Mitochondria, hormesis and the metabolic syndrome: 'redox-thriftiness'
A notable finding in the metabolic syndrome and T2D is that muscle mitochondrial function seems to be reduced [22]. This mitochondrial dysfunction is also found in other tissues, including the vascular endothelium and may be related to mitochondrial overload by excessive glucose flux through the electron transport chain (ETC) [76]. Adipocytes can also suffer from fatty acid overload, leading to mitochondrial dysfunction and oxidative stress. Under normal circumstances, adipocytes may be able to burn off excessive fat as heat, so preventing lipotoxic damage to other organs [77].
As insulin signalling plays a vital role in controlling mitochondrial function, this suggests that insulin resistance, reduced mitochondrial function, and the metabolic syndrome are all linked. As mitochondria are potentially wasteful of energy, it is likely that reduced food availability would, via natural selection, select for the minimal functional mitochondrial density needed to produce energy – 'symmorphosis' or economy of design [78]. In contrast, it is now becoming apparent that various stressors, such as exercise, fasting, and some polyphenols, can induce mitochondrial biogenesis via a process called 'mitohormesis' – all of which are associated with improved functional longevity [79]. The most important of these may well be exercise, and it has been suggested that the increased inflammatory tone seen in the metabolic syndrome may be due to reduced PGC-1 activity, which has a strong anti-inflammatory effect [43].
The ecological stress theory of ageing suggests that optimal survival (longevity) is probably reliant on a degree of stress to stimulate resistance to these stressors; in essence, a (mild) degree of stress stimulates the cell (organism) to improve its anti-stress mechanisms, which by and large result in an improved ability to resist oxidative stress and upregulate DNA repair – this process is known as 'hormesis'. These stressors include heat, cold, calorie restriction, excessive gravity, exercise and irradiation. As these stimuli result in long lasting effects, they might be expected to slow the ageing process. The downside may therefore be that removal of these stresses might be expected to reduce biological fitness; in their optimal environment, animals normally live in a 'hormetic zone' [80] – which could also be described as the 'Goldilocks' zone, neither too comfortable, but not too harsh. In this light, mitohormetic stimuli must be critical for optimal functioning. In order to shed light on the nature of insulin resistance, we have developed the concept of mitochondrially-driven 'redox-thriftiness'. Underlying this is an emerging concept that the mitochondrium plays a critical role in the modulation of redox signalling, and thus, insulin resistance. Therefore, by improving mitochondrial function (defined by the ATP/ROS ratio), not only is metabolic flexibility improved, but inflammation and insulin resistance can be reduced, as the signalling pathway has less negative impact on intracellular redox.
Inflammation, a tipping point, life expectancy and VAT
We suggest that although optimal in an ancient environment, 'redox-thriftiness' may lead to a 'redox spiral' in the absence of constant and appropriate hormetic stimuli and the presence of unlimited calories. The ensuing insulin resistance would further inhibit insulin-driven mitochondrial biogenesis, so worsening the spiral. There may, therefore, exist a thrifty-inflammatory tipping point when normal physiological thrifty insulin resistance gives way to more generalised inflammatory and pathological insulin resistance [117]. It is therefore likely that the thrifty-inflammatory tipping point also has a set point, which is likely to be modulated by both genetics, environment and epigenetics, and would thus be related to metabolic flexibility, and importantly, by the extent of an innate or programmed inflammatory response to oxidative stress.
As aging is associated with increased NFκB activity [118, 119], the tipping point could also represent the activation of an ancient accelerated aging mechanism to shorten functional longevity and increase population turnover. Accelerated ageing may well have evolved as an evolutionary mechanism against predation, and could also be activated by 'stress' to weed out less fit organisms. In contrast, without predation, the natural state of any species is to develop extreme longevity as this increases reproductive potential [120]. We also suggest that this same mechanism may have become adopted as a mechanism to prevent excessive weight gain.
Atherosclerosis and hypertension are linked via endothelial dysfunction and an imbalance between oxidative and anti-oxidant mechanisms, leading to a vicious inflammatory-oxidative cycle – this is largely driven by moieties that become oxidised, such as LDL. Hence, the development of diabetes accelerates the process through increased oxidative stress induced by hyperglycaemia and insulin resistance [121]. Molecularly this is thought to occur via oxidation of LDL via a number of oxidative and carbonyl mediated mechanisms [122]. Dyslipidaemia, atherosclerosis, the formation of plaques, and ultimately, thrombosis leads to 'atherothrombosis', and is likely to afflict most people [123]. It has been calculated that stochastic damage to elastin in the human vasculature may limit ultimate human life expectancy to about 120 years [124]; thus, any accelerated damage will clearly reduce this. The tipping point could have a profound influence on life expectancy, which in humans is largely (but not exclusively), determined by cardiovascular disease: the metabolic syndrome is associated with an earlier than normal onset of many diseases, including renal disease, cancer, osteoporosis, depression and neurodegeneration [125–129].
The immune system and energy storage; good and bad for the individual
The immune system and the co-evolutionary need to resist famine and infection – the 'thrifty-cytokine' idea [130], which is based on the 'metabolic costs of immunity' [131], may be critical in the metabolic syndrome. Stored energy enables a robust immune response to be mounted, but might lead to a pro-inflammatory state. The 'metabolic syndrome' phenotype is characterised by pathological insulin resistance, dyslipidaemia, hypertension, hypercoagulability, increased VAT and oxidative stress, which shares many similarities (although milder) to what happens in the APR [132, 133] and stress response [134]. Indeed, oxidative stress-induced activation of the stress pathways, JNK & p38 MAPK, and the IκBK/NF-κB pathway, may provide a unifying hypothesis to explain T2D [135]. Reduction of JNK1 activity in macrophages can protect against obesity-induced insulin resistance, while JNK1-/- mice are highly resistance to diet induced obesity and appear to have an increased metabolic rate [136, 137]. Thus JNK appears to play a central role in obesity and insulin resistance [138].
This therefore presents a paradox; increased activity of JNK is associated with increased lifespan, but in the context of the metabolic syndrome, its activity might be associated with a reduced lifespan. JNK is a ROS-activated kinase and is upregulated by many stresses, and cytokines, and if briefly activated, increases cell survival, however, if continually active, it induces apoptosis. Likewise, NF-κB is also activated by ROS, but in contrast suppresses JNK activity, and thus apoptosis. It may do this, in part, by suppressing ROS by increasing anti-oxidant enzymes [139, 140]. This might begin to explain why, although NF-κB activity is increased in the metabolic syndrome, its relationship to insulin resistance may be very tissue specific: it may be acting to aid in cell survival and suppress excessive ROS. This may suggest that at least with regards to insulin signalling, JNK maybe more important than NF-κB. Given the very strong relationship of obesity to insulin resistance, and the macrophage JNK data above, increasing levels of obesity may result in increased pro-inflammatory tone (so increased NF-κB activity), which results in cytokine-induced activation of JNK – the 'redox spiral'.
One source of the inflammation may be 'stressed' adipocytes that become overloaded with fat-attracting macrophages [141]. New data suggest that the number of adipocytes an adult human may be set during childhood/adolescence [142], hence, in adulthood fat capacity may be fixed. This suggests that it is possible to overload the fat storage system. If leptin-deficient mice are engineered to over-express adiponectin (which can suppress NF-κB), they can constantly expand their fat tissue, becoming morbidly obese, but appear to be metabolically healthy with little adipose tissue inflammation and do not become insulin resistant: this ability is associated with increased activity of PPAR γ [143]. PPAR γ is important in adipogenesis and is suppressed by FOXO [144] and in general, it appears that NF-κB and the PPARs may mutually repress each others activity [145–148], which suggests that the PPARs play a significant role in modulating inflammation and insulin resistance, and thus, longevity, as they can be down-regulated by oxidative stress. Insulin can also increase PPAR γ transcription in adipocytes, probably via mTOR [149]. Hence, PPAR γ-driven accumulation of fat is probably protective, but the downside is that it would probably result in an animal too fat to move. Thus, suppression of excessive fat storing activity may be important in limiting size.
It has been long thought that the response to 'stress' can dictate the propensity to a metabolic syndrome phenotype [134]; Cushing's syndrome, in which there is an overproduction of cortisol, generates a very similar phenotype. Cortisol itself results in increased VAT, insulin resistance, hepatic gluconeogenesis and lipogenesis, increased lipolysis and reduced insulin output. Both the sympathetic nervous system (SNS) and hypothalamic pituitary adrenal (HPA) axis are more active in obesity and the metabolic syndrome. Cortisol also positively modulates 24 hour leptin production, and at low concentrations, can enhance insulin's actions, rather than inhibiting them [150]. The increased activity of the SNS and HPA may also be as a mechanism to prevent excessive weight gain, and is associated with insulin resistance, and may be one of the actions of leptin [151, 152].
It is therefore possible that it is the response to stress itself that is important, and as previously mentioned, this might represent a 'weeding out' mechanism for less fit organisms. However, glucocorticoid release, under normal circumstances, prepares the body to meet increased metabolic demands – for instance, fasting or exercise, or even perceived stress [153]. Thus, although the metabolic syndrome can be partly explained by increased activity of the SNS and HPA, it is also likely that it might represent a response to a more fundamental stress. Corticosteroids are strongly anti-inflammatory and can both induce endocannabinoid release (possibly redirecting arachidonic metabolism towards anti-inflammatory mediators, rather than inflammatory prostaglandins) [154], and in some tissues, can induce mitochondrial biogenesis [113, 114]. This might suggest why the number of fat cells may eventually become fixed: it is a size limiting mechanism – as fat cells become more stressed, they start to drive an anorexic response – which may be very similar to the metabolic syndrome. The above suggest that storing energy is essential to mount an immune response, but this same mechanism may also start to drive a response to limit size using inflammation.
Origins of the dyslipidaemia; inflammation
Acute injury or infection activates the APR, which is associated with release of acute phase proteins, hepatic gluconeogenesis, hyperlipidaemia and insulin resistance [155]. The process is driven by cytokines and is also associated with decreased fatty acid oxidation, increased fatty acid synthesis and triglyceride formation, as well adipose lipolysis [156]. Likewise, the metabolic syndrome is associated with decreased HDL-c and increased triglycerides, as well as changes towards more inflammatory (acute phase) apolipoproteins, with reduced particle size and the presence of oxidised lipoproteins. It is thus associated with a very similar inflammatory lipid profile [157]. VAT is metabolically very active, and is sensitive to the lipolytic effect of catecholamines, but insulin resistant – it appears to be in a permanent lipolytic mode. This results in high levels of FFA being delivered to the liver and an increase in hepatic lipase activity; this also decreases lipoprotein particle size. Critically, as the size of adipocytes increases, so does the production of lipoprotein lipase (LPL) and cholesterol ester transfer protein (CETP), as well as angiotensinogen, PAI-1, IL-6 and TNFα. Insulin and cortisol increase LPL production – which may explain why activation of the HPA axis may result in increased VAT [158].
It is now widely acknowledged that atherogenesis is related to an inflammatory lipid profile, and that the lipid carrying system is also part of the immune system. For instance, although HDL can via apolipoprotein A-1 have a vital role in reverse cholesterol transport and reduce oxidative stress, HDL can also demonstrate a more pro-inflammatory nature, as it can carry many APR components [156, 159]. Thus, the dyslipidaemia and insulin resistance in the metabolic syndrome have all the hallmarks of being driven by inflammation, which itself, is most likely triggered by oxidative stress.
A thrifty-inflammatory tipping point and a function for VAT?
Excessive substrate levels, inefficient autophagy and stress signalling would simply overwhelm many cells. This would explain the increased endoplasmic reticulum stress found in obesity and diabetes [160], which leads to inflammation [161]. This might have the effect of worsening the lipotoxicity by inhibiting the PPARs, in particular, PPAR γ, so reducing the capacity to increase pre-adipocyte proliferation. In effect, rising inflammatory tone might lead to a reduced capacity to metabolise and store fat safely, as it might lead to insulin resistance in adipose tissue, resulting in lipolysis.
Thrifty insulin resistance could be determined by reduced mitochondrial function and 'redox-thriftiness': this ensures both energy storage, resistance to excessive redox signalling and, quite possibly, a hair-trigger inflammatory response. As fat mass increases, there is a gradual improvement in the ability to mount a strong immune response, however, if it is not offset by mitohormetic stimuli, then it is possible that the innate immune system and the HPA/SNS become activated. This might initially have the effect of mildly increasing insulin resistance still further. However, in combination with excessive calories and rising inflammatory signals, many cells become "stressed" and start to inhibit essential functions like mitochondrial biogenesis and fat storage. At this point a vicious feed-forward loop is initiated.
Thus thrifty insulin resistance may develop into inflammation-driven insulin resistance; this itself may be a mechanism to prevent excessive weight gain. Insulin resistance in adipocytes, in particular, those in VAT, would lead to increased lipolysis – a symptom of the adipocyte becoming increasingly insulin resistant. The increased activity of the HPA axis, with rising levels of corticosteroids, might even act to accelerate fat burning in adipocytes. This data may then shed light on a function for VAT: it modulates maximum fat storage and life expectancy. New data suggest that indeed, VAT can modify life expectancy – it's removal extends lifespan [
162
]. Both calorie restriction and exercise result in a rapid depletion of VAT; this may support the hypothesis of Freedland who suggested that there is a critical visceral adipose tissue threshold (CVATT) [
163
]. Figure
2
summarises this concept: without hormesis, metabolic flexibility decreases and in concert with excessive calories, ectopic fat is deposited, in particular, in the visceral region – this drives an inflammatory response that may well act to prevent excessive weight gain, but it will also shorten lifespan. In contrast, in the presence of hormetic stimuli, this is much less likely to happen – as any excess calories may be directed to other fat stores (such as subcutaneous fat) or burnt off.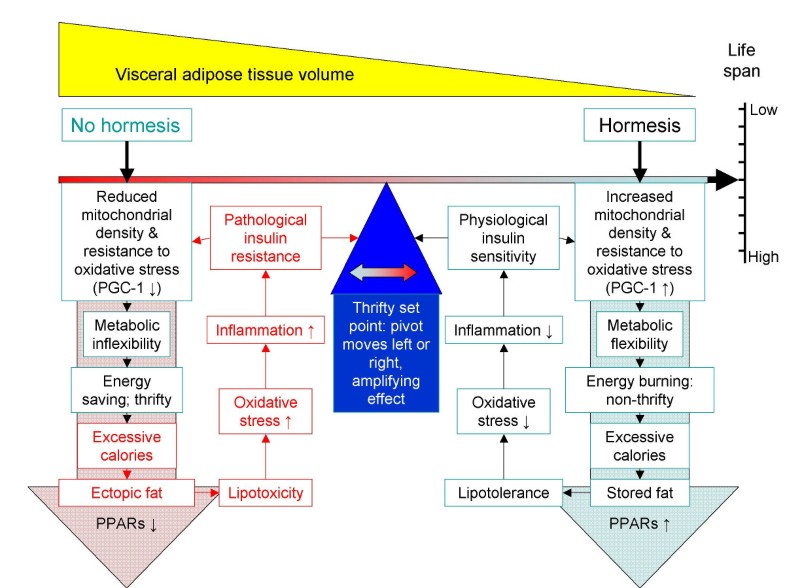 Modulation of the tipping point
It is likely that the tipping point may be determined by many positive hormetic and negative inflammatory factors, which in turn, modulate the 'redox-thriftiness' set point and metabolic flexibility. Physical activity is probably one of the strongest positive stressors, as is fasting: alternate day calorie restriction (fasting) can invoke many of the beneficial effects of calorie restriction in both animals and humans [164–166]. Inflammation is clearly a negative regulator (increases oxidative stress and induces insulin resistance), and although beyond the scope of this paper to fully review, it is likely that many infections, such as hepatitis C which are associated with increased rates of T2D [167], could profoundly effect the tipping point.
Dietary composition may also strongly influence it: diets high in saturated fat tend to be detrimental, whereas diets high in unsaturated/polyunsaturated fats may be more healthy [168–170]. In stone age times, the ratio of polyunsaturated to saturated fat (P/S) in the diet was probably nearer 1.0 [171, 172]. In comparison, dietary studies in the late 1970 s and early 1980 s indicated that the P/S ratio was 0.20 and 0.35 in Australia and Finland, respectively [173, 174]. This probably means that humans have evolved (to varying degrees, depending on environment), to be dependent on a dietary-, exercise-, temperature-, and fasting-induced levels of hormesis. This would explain why many clinical trials of simple anti-oxidants, such as vitamin E, have failed [175]; simply blocking free radicals, because of the their role in redox, may reduce intracellular preconditioning effects. In contrast, some polyphenols, such as resveratrol do actually appear to have a benefit as they can induce mitochondrial biogenesis. In this regards, even polyunsaturated fats could be viewed as 'hormetic'. This also extend to other compounds, including some pharmaceuticals, such as statins, metformin, or even alcohol.
Redox-thriftiness, insulin resistance and evolutionary suicide
The concept of '
redox-thriftiness'
suggests that insulin resistance is induced by oxidative stress and is thus a protective mechanism. Hence, the ability to resist oxidative stress is associated with insulin sensitivity. As mitochondria are critical in determining resistance to oxidative stress, then insulin resistance may be determined by the amount of ATP produced by mitochondria in relation to their ROS output; having a high density of low potential mitochondria is probably a mechanism to reduce redox signalling and thus, oxidative stress (figure
5
). However, whether insulin resistance is viewed as friend or foe depends on whether it is seen from the viewpoint of the cell, an organ, the individual organism, or the species: within '
redox-thriftiness'
may lie a higher order mechanism to improve the fitness of the species at the expense of the individual, although, paradoxically, it improves the survival of the cell or organism in the short term.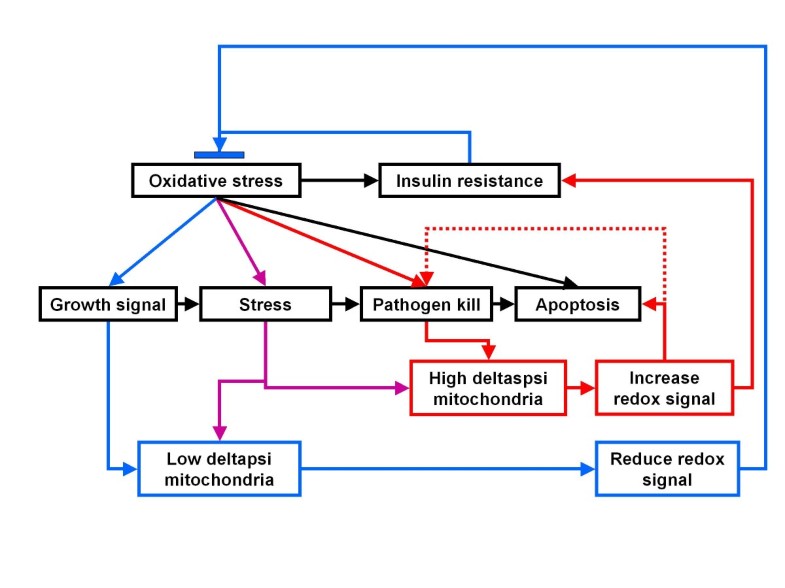 From the selfish cell to the selfish brain
The brain is almost totally dependent on glucose: although it constitutes only 2% of the body mass, its metabolism accounts for 50% of total body glucose utilization. Although the brain does not require insulin to take up glucose, insulin receptors are found in many areas of the brain and are vital for normal function. Thus, insulin resistance in the brain could have an impact on the origins of the metabolic syndrome and the propensity to increase obesity [282]. In obesity, the brain becomes insulin resistant and can have too much glucose, which is associated with accelerated brain aging and may involve NO-induced oxidative damage to neuronal mitochondria [283, 284]. However, both starvation and triglycerides reverse obesity-induced suppression of insulin transport across the BBB [285].
The 'selfish-brain' brain hypothesis in relation to the metabolic syndrome posits that insulin resistance and activation of the SNS/HPA are part of a normal system to maintain a set point to maintain glucose to the brain. The brain uses glucose via a localised 'on demand' system, but as circulating glucose would rapidly run out, it also ensures an 'on request' allocation system to ensure supply, which may also be part of the stress reponse system. When food intake is low (resulting in mild stress), glucose supply is maintained to the brain via gluconeogenesis, insulin resistance and suppression of insulin release. When food is plentiful, the stress system relaxes and the body becomes insulin sensitive and fat stores are increased until both leptin and insulin levels suppress energy intake. However, if food is excessive, then insulin and leptin signals rise, activating the SNS, suppressing appetite. If over-eating continues, the organism gets further away from an ideal body weight set point, resulting in a continual mild activation of the stress system (as it attempts to compensate): it is well described that untreated diabetes does result in weight loss [152]. Indeed, obese patients generally have a higher basal metabolic rate (BMR) [151], which does support this hypothesis.
We would suggest that this hypothesis can be integrated with the 'redox-thriftiness' concept to encompass the 'selfish cell'. As it is likely that glucose readily diffuses across the BBB, and that GLUT-1 and GLUT-3 in the brain are inversely related to glucose levels [286], hyperglycaemia is clearly as potentially dangerous to neurons as it is to other cells. Insulin-induced vasodilatation signals through the Pi3K/Akt pathway. Thus, endothelial insulin resistance is probably associated with excessive insulin in combination with many inflammatory factors, such as oxidised LDL or hyperglycaemia [287]. Hence, BBB insulin resistance could be viewed as a brain protective mechanism. Certainly, there is data to suggest that a degree of reduced insulin signalling in the brain is also associated with an increase in lifespan [288]. Taken together, a mild degree of CNS insulin resistance may also be protective, and would fit the 'redox-thriftiness' hypothesis. This might explain why the set point may move to a higher body weight: as the brain receives increasing signals to activate the SNS via leptin and insulin, it becomes mildly resistant – which ensures continual positive energy deposition. Hence, the selfish cell concept would help to explain the concept of the 'selfish brain'. One corollary of this would be the development of insulin resistance in adipose tissue, which could also be viewed as a mechanism to prevent excessive weight gain. In this respect, the concomitant increase in HPA activity would not only drive lipolysis via sympathetic innervation, but quite possibly, increased mitochondrial biogenesis – which would both enhance energy usage and protect against lipotoxicity.
From the selfish brain to the selfish species
Is the accelerated aging phenotype associated with the metabolic syndrome simply a by-product of an unnatural evolutionary situation, or could it have an adopted function, such as a mechanism to increase population turnover via reducing life expectancy in times of plenty? For instance, it might partly explain one widely accepted evolutionary lifespan hypothesis called the 'disposable soma theory'. This is driven by the balance of energy allocation between reproduction and somatic maintenance (e.g. resistance to oxidative stress and repairing the genome). During times of hardship, somatic maintenance improves Darwinian fitness (longer breeding cycle resulting from improved resistance to oxidative stress), whereas in times of plenty, resistance to predation and rapid breeding become more important. This might be related to a decrease in growth hormone releasing hormone from the hypothalamus in response to starvation, resulting in decreased activity of the insulin/insulin-like growth factor axis [289]. The origins of this may well be very ancient indeed, and go right back to the development of unicellular organism apoptosis – as demonstrated by yeast and many phytoplankton.
It is thought that mitochondria are descendents of a group of bacteria (α-proteobacteria) that contain metacaspases. A critical determinate of cell death is oxidative stress [290, 291]. Mitochondria may well undergo a form of programmed death, 'mitoptosis', which can drive cell death, 'apoptosis', which in turn can drive accelerated senescence of the entire organism or 'phenoptosis' [292]. Thus, 'redox-thriftiness' and insulin resistance can be viewed as a mitochondrially-associated mechanism to resist oxidative stress, which is modulated by the environment to ensure survival of the species. Optimal fitness thus comes when a species lives in its hormetic zone; many humans now patently live well outside it – as their environment is far to benign [80]. A disturbing possibility is that that it may be an example of the beginnings of a man-made evolutionary suicide [293, 294]. For example, some countries in the Gulf have obesity rates of 30–50%, with diabetes rates approaching 20–30% or more in some places [295–297]. The discovery of oil in this region in the last 60 years has resulted in an unprecedented explosion of wealth in only 2–3 generations – well within epigenetic 'memory' of a tougher time. Virtually all hormetic stimuli have probably been removed. As the median age in these countries is relatively low, it could begin to have a serious impact on the average life expectancy. Developing diabetes at a young age can reduce life expectancy by at least 14 years [298]. However, morbidity sets in long before frank diabetes develops. For instance, excessive insulin resistance and diabetes are both associated with a decrease in cognitive ability [299, 300], while the metabolic syndrome is associated with a significant decrease in a broad range of sexual function metrics in both sexes [301]. In short, populations in the Gulf are now well out side their 'metabolic flexibility bowls' and 'adaptability envelopes'.
Conclusion: the "Goldilocks hormetic zone" and the LIMIT-AGE syndrome
Mild oxidative stress and mitochondrial biogenesis lead to optimal functioning, metabolic flexibility and an improved ability to resist toxic oxidative stress. Hence, modern man needs to live in a hormetic zone that stimulates optimal functioning, a sort of "Goldilocks hormetic zone" – neither too severe, or too easy.
Physical activity and calorie restriction are two potent mechanisms hormetic mechanisms, but emerging data now also support some polyphenols as having hormetic effects. In particular, molecules that result in activation of AMPK, PPAR δ and PGC-1α [259, 260]. Certainly, there are other multiple hormetic stimuli that might have a longevity inducing effect, including heat stress and dehydration; the commonality being activation of common stress pathways [302, 303]. It is also possible that some pharmaceuticals may have hormetic effects. Thus, our view of some diseases may well need to change: a lack of hormesis reduces our ability to withstand excessive calories due to metabolic inflexibility, leading to the increased expression of maladies ranging from atherosclerosis, to diabetes, to cancer. This suggests zero hormesis is the most dangerous of all, and that any additional hormesis will bring about some benefit. This may well be epitomised by the high risk of a sedentary lifestyle, and the benefit of even some exercise – even if taken up in later age [304, 305].
In conclusion, 'redox-thriftiness' and insulin resistance may be part of highly conserved survival mechanism. In some circumstances, it may also lead to the metabolic syndrome, which may be better described as the LIMIT-AGE concept. Redox-thriftiness is tightly linked into mitochondrial function and thus must be modulated by hormetic stimuli. This explains why exercise and nutritional 'stressors' are potent treatments for the metabolic syndrome. The hypothesis may also begin to explain some failures, and successes, of modern day therapeutic treatments.
Abbreviations
2-AG:

2-arachidonylglycerol
AEA:

anandamide (N-arachidonoyl-ethanolamide)
AgRP:

agouti-related peptide
APR:

acute phase response
AMPK:

adenosine monophosphate kinase
BAT:

brown adipose tissue
BBB:

blood-brain barrier
BMI:

body mass index
BPI:

bactericidal/permeability-increasing protein
CB-1:

cannabinoid receptor 1
CBD:

cannabidiol
CREB:

cAMP response element binding protein
DGL:

diacylglycerol lipase
ECS:

endocannabinoid system
EGCG:

epigallocatechin gallate
ERK:

extracellular signal-regulated kinase
ETC:

electron transport chain
FPG:

fasting plasma glucose
FOXO:

forkhead box class-O 1
GLP-1:

glucagon-like peptide 1
GSIS:

glucose-stimulated insulin secretion
HO:

haem oxygenase
HIF-1α:

hypoxia inducible factor-1α
HPA:

hypothalamic pituitary adrenal
HNE:

hydroxynonenal
IGF-1:

insulin-like growth factor 1
IMTG:

intra-myocellular triglyceride
JNK:

c-jun N-terminal kinase
LPS:

lipopolysaccharide
MDA:

malondialdehyde
MAPK:

mitogen activated protein kinase
MPTP:

mitochondrial permeability transition pore
NAFLD:

non-alcoholic fatty liver disease
NF-κB:

nuclear factor κB
NPY:

neuropeptide Y
O-GlcNAc:

O-linked-N-acetylglucosamine
OEA:

n-oleoylethanolamine
PGC-1:

PPAR γ co-activator 1
PKC:

protein kinase C
POMC:

pro-opiomelanocortin/cocaine- and amphetamine-regulated transcript
PPAR:

peroxisomal proliferating activated receptor
RNS:

reactive nitrogen species
ROS:

reactive oxygen species
RXR:

retinoid × receptor
SCAT:

subcutaneous adipose tissue
SIRT 1:

silent mating type information regulation 2 homologue 1
SNS:

sympathetic nervous system
STAT-3:

signal transducer and activator of transcription 3
SREBF1:

sterol regulatory element-binding factor 1 gene
THC:

tetrahydrocannabinol
TLR:

toll-like receptor
TOR:

target of rapamycin
TRPV1:

transient receptor potential vanilloid type 1 receptor
T2D:

type 2 diabetes
UCP-2:

uncoupling protein 2
VAT:

visceral adipose tissue
WAT:

white adipose tissue.
Declarations
Acknowledgements
To the presence of the internet, and the ability to use curiosity-driven research of the literature, without which the evolution of this paper through its multiple incarnations would not have been possible. To GW pharmaceuticals for financial support that allowed the further development of the hypotheses contained within the paper.
Authors' Affiliations
(1)
Metabolic and Molecular Imaging Group, MRC Clinical Sciences Centre, Hammersmith Hospital, Imperial College London, London, UK
(2)
GW pharmaceuticals, Porton Down, UK
Copyright
© Nunn et al; licensee BioMed Central Ltd. 2009
This article is published under license to BioMed Central Ltd. This is an Open Access article distributed under the terms of the Creative Commons Attribution License (http://creativecommons.org/licenses/by/2.0), which permits unrestricted use, distribution, and reproduction in any medium, provided the original work is properly cited.