The biology of lysine acetylation integrates transcriptional programming and metabolism
Nutrition & Metabolism
2011
8:12
Received: 23 November 2010
Accepted: 3 March 2011
Published: 3 March 2011
Abstract
The biochemical landscape of lysine acetylation has expanded from a small number of proteins in the nucleus to a multitude of proteins in the cytoplasm. Since the first report confirming acetylation of the tumor suppressor protein p53 by a lysine acetyltransferase (KAT), there has been a surge in the identification of new, non-histone targets of KATs. Added to the known substrates of KATs are metabolic enzymes, cytoskeletal proteins, molecular chaperones, ribosomal proteins and nuclear import factors. Emerging studies demonstrate that no fewer than 2000 proteins in any particular cell type may undergo lysine acetylation. As described in this review, our analyses of cellular acetylated proteins using DAVID 6.7 bioinformatics resources have facilitated organization of acetylated proteins into functional clusters integral to cell signaling, the stress response, proteolysis, apoptosis, metabolism, and neuronal development. In addition, these clusters also depict association of acetylated proteins with human diseases. These findings not only support lysine acetylation as a widespread cellular phenomenon, but also impel questions to clarify the underlying molecular and cellular mechanisms governing target selectivity by KATs. Present challenges are to understand the molecular basis for the overlapping roles of KAT-containing co-activators, to differentiate between global versus dynamic acetylation marks, and to elucidate the physiological roles of acetylated proteins in biochemical pathways. In addition to discussing the cellular 'acetylome', a focus of this work is to present the widespread and dynamic nature of lysine acetylation and highlight the nexus that exists between epigenetic-directed transcriptional regulation and metabolism.
Keywords
LysineHistone AcetylationGlycogen Storage DiseaseHistone TailLysine Acetylation
Introduction
DNA methylation and lysine modifications comprise major epigenetic processes on chromatin, which alter nucleosomal architecture leading to gene activation or repression [1–3]. Dynamic post-translational modifications (PTMs) occurring in the proximity of a gene promoter are one of the hallmarks of epigenetic regulation of gene expression [4]. Although an individual lysine residue may undergo mutually exclusive multiple PTMs, including acetylation, methylation, neddylation, ubiquitynation and sumoylation, multiple lysines of a single protein can undergo diverse modifications [5, 6]. Functionally, these site-specific PTMs, which are established during transcriptional programming, impart flexibility to regulate cellular processes in response to diverse physiological and external stimuli. PTMs impact functional capabilities of a protein, thus validating the notion that biological complexities are not restricted only by the number of genes [7]. To elucidate the functional consequences of a single PTM or combinatorial PTMs occurring on chromatin, the histone code hypothesis proposes to integrate the gene regulatory ability of a site-specific histone modification within its biological context [8, 9]. In quintessence, a site-specific PTM serves as a mark to recruit a chromatin-associated protein complex(es) that participates in controlling gene activity, thereby, regulating cell fate decisions [10]. For instance, within chromatin, depending on the site and degree of the modification, lysine methylation can cause either gene activation or repression; lysine acetylation on histones is associated with chromatin relaxation contributing to gene activation; and the biochemical outcome of lysine ubiquitynation or sumoylation is dynamic turnover of proteins. In addition, although the role of methylation in modulating non-histone proteins, including transcription factor activity, is only beginning to be understood, acetylation of transcription factors can affect their DNA-binding ability, stability, nuclear translocation and capacity to activate target genes [7, 11].
Accumulating studies focusing on model systems of viral infection and the DNA-damage response have supported the role for lysine acetylation in enhancing molecular interactions between transcription factors and the transcriptional machinery on a gene promoter, leading to modulation of a specific downstream target [3, 12–14]. Mechanistically, addition of an acetyl group to a lysine residue alters the positive charge of the ε-amino group, thereby impacting electrostatic properties that prevent hydrogen bonding and generating a circumferential hydrophobic milieu. Subsequently, this alteration of charge could facilitate acetylation-directed molecular interactions. Historically, almost four decades ago, acetylation of histones was first speculated to be involved in gene transcription. However, it was not until 1996 that one of the first lysine acetyltransferase (KAT), HAT-A from Tetrahymena, was cloned and characterized [15]. Very recently, combinatorial approaches with high-affinity acetyl-lysine antibodies, mass spectrometry (MS) and stable-isotope amino-acid labeling (SILAC) techniques detected almost 2000 acetylated proteins in the cell [16, 17]. Further, the functional implications of each of these PTMs will have to be determined; one of the major tasks will be to distinguish a dynamic acetyl mark(s) specific for a pathway from a set of pre-existing global marks. Studies demonstrate that lysine acetylation can initiate molecular interplay leading to at least one of the two biochemical outcomes: 1) recruit co-activator complexes via conserved modular domains such as bromodomains; 2) engage co-repressor complexes through lysine deacetylases (KDACs) [18, 19]. Published studies have utilized trichostatin A (TSA) or other KDAC inhibitors to highlight the biochemical significance of acetylation [20, 21]. Long-term therapeutic aspirations stem from the pharmacological inhibition of KDACs that provides clinical benefits in models of human disease. Histone deacetylation reverts the electrostatic characteristics of chromatin in a manner that favors gene repression. Interestingly, a recent genome-wide chromatin immunoprecipitation analysis revealed preferential association of KDACs with active genes, suggesting that KDACs do not simply turn off genes, but rather function to fine-tune gene expression levels [22].
Cellular-wide proteomic analyses on protein acetylation revealed a large number of acetylated proteins, mostly enzymes involved in intermediary metabolism in the cytoplasm as well as the mitochondrion [16, 23, 24]. These findings support a larger role of acetylation extending beyond the nucleus mainly toward the regulation of metabolic enzymes by at least two mechanisms: 1) acetylation-mediated modulation of metabolic enzymatic activity; and 2) influencing their protein stability [17, 25, 26]. Given the frequent occurrence of metabolic dysregulation in human diseases, including diabetes, obesity and cancer, acetylation could play a pivotal role in the progression of these diseases. Particularly in cancers, it is well known that the transcriptional functions of the tumor suppressor p53 are affected by alterations in tumor-cell metabolism [27, 28]. Because enzymes that catalyze acetylation are also transcriptional co-activators, which coordinate with transcription factors in regulating gene expression--underscoring the integration of transcription with metabolism--such enzymes present potential therapeutic targets. The overall goal of this review is to highlight the most recent advances in the field of acetylation biology that could spark new perspectives and illuminate novel research avenues.
The versatile and conserved nature of Lysine acetylation
The versatile nature of the amino acid lysine is exhibited not only by its ability to undergo a wide range of epigenetic modifications implicated in chromatin signaling networks but also by its indispensable structural role in extracellular matrices. The ε-amino group participates in hydrogen bonding and acts as a general base in catalysis. This unusual chemical plasticity within a lysine residue eliminates steric hindrance to allow histone-modifying enzymes that are central to transcriptional regulation to perform acetylation and methylation as well as subsequent deacetylation and demethylation (Figure
1
).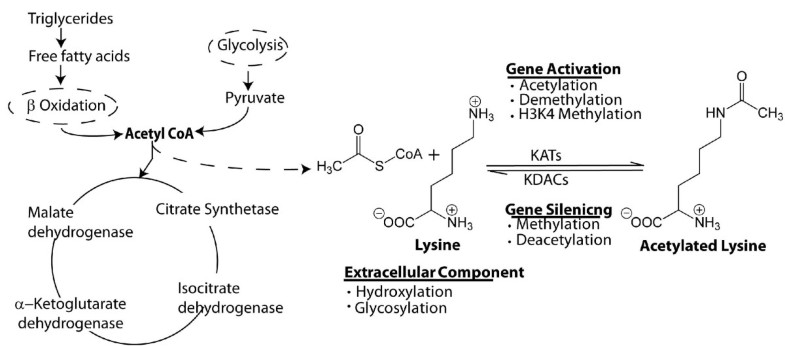 Lysine acetylation was initially identified in histones, so KATs and KDACs were referred to as histone acetyltransferases (HATs) and deacetylases (HDACs), respectively. There are three major groups of KATs: Gcn5-related N-acetyltransferases (GNATs); E1A-associated protein of 300 kDa (p300; KAT3A) and CBP (KAT3B); and MYST proteins [10, 29]. Known KDACs are divided into classes I, II and IV and the sirtuin family (also known as class III KDACs). In humans, there are KDAC1, -2, -3, and -8 (class I); KDAC4, -5, -6, -7, -9, and -10 (class II); and KDAC11 (class IV) [30]. There are seven members of the sirtuin family in humans (SIRT1-7) [22, 31]. Wang and colleagues [22] recently analyzed the genome-wide localization of KDACs and their KAT counterparts in human immune cells. Surprisingly, KDACs were not recruited to silenced gene promoters. Instead, both KATs and KDACs were enriched on inactive promoters that had methylation of histone H3 at lysine 4 (H3K4me) and were also enriched on active promoters. The occurrence of KDACs on promoters imply deacetylation, which will prevent RNA polymerase II from binding to genes that are standing by to be activated but should not yet be switched on. For instance, KDACs might also contribute to the removal of undesired basal acetylation. Collectively, these results indicate a major role for KDACs in the maintenance of gene activation.
Several studies have described acetylated proteins from mouse liver, human leukemia cells, and more recently from human liver cells [
17
,
23
,
25
]. Out of the 1047 acetylated proteins from human liver, 135 overlapped with 195 acetylated proteins from mouse liver. However, only 240 acetylated proteins were common between the human liver and leukemia cells, suggesting that differential profiles of acetylated-proteins could be physiologically relevant and also cell-type-dependent [
16
]. In leukemic cells, using high-resolution MS, 3600 lysine acetylation sites were identified on 1750 proteins [
16
]. Our analysis of the supplementary data from that study using the functional annotation clustering tool DAVID 6.7 showed that the lysine-acetylated proteins can be categorized into more than 500 functional clusters (Additional file
1
Table S1
), thereby extending our knowledge of the cellular events that are regulated by acetylation [
32
,
33
]. This functional annotation clustering tool identifies related genes or proteins by measuring the similarity of their global annotation profiles based on the hypothesis that if two genes have similar annotation profiles, they should be functionally related. Using this rationale, the method identifies broader gene groups whose members share major biological features. Based on the output generated by this tool the acetylated proteins were determined to be involved in the regulation of numerous processes such as mRNA processing, proteolysis, GTP binding, stress responses, regulation of cell death, immune system development, neuron development and differentiation, and regulation of the protein kinase cascade. Interestingly, more than 500 acetylated unique proteins with multiple acetylation sites were categorized as being involved in chromatin-templated processes (Figure
2
). Functional annotation clustering revealed the acetylated proteins to be involved in regulation of Parkinson's disease, Huntington's disease, Alzheimer's disease and glycogen storage disease. An important functional cluster that emerged from our analyses included more than 50 acetylated proteins involved in various types of cancers. KAT3B, retinoblastoma and tumor suppressor p53 figured prominently in the list of proteins implicated in human diseases (Additional file
2
Table S2
).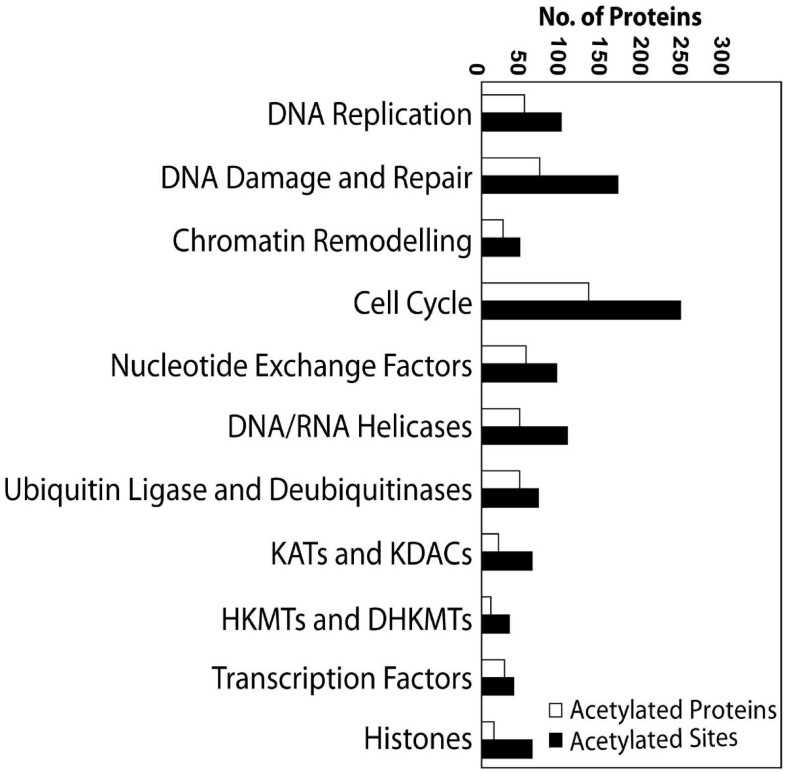 Lysine acetylation is a prevalent modification in enzymes that catalyze intermediary metabolism, and our analyses extended the scope of this regulation [17]. Lysine acetylated proteins are involved in the metabolism of carbohydrates, lipids, nucleotides, amino acids, secondary metabolites, and xenobiotics. Acetylation also regulates the relative activities of key enzymes controlling the course of glycolysis versus gluconeogenesis, and the branching between the citrate cycle and glyoxylate bypass. This modulation within metabolic pathways is directed by a KAT and KDAC pair whose expression levels are synchronized according to growth conditions. Reversible acetylation of metabolic enzymes ensures rapid cellular responses to environmental changes through prompt sensing of cellular energy status and flexibly altering reaction rates.
Until very recently, lysine acetylation was known only in eukaryotic cellular processes, although its existence in prokaryotes was predicted. Substantiating this idea, very recently, it was shown that reversible lysine acetylation regulates acetyl-coenzyme A synthetase activity in Salmonella enterica[25]. Acetylation of metabolic enzymes that depend on a carbon source indicates that acetylation may mediate adaptation to various carbon sources in S. enterica, which has only one major bacterial protein acetyltransferase, Pat, and one nicotinamide adenine dinucleotide (NAD+)-dependent deacetylase, CobB. To determine whether and how lysine acetylation globally regulates metabolism in prokaryotes, Zhao et al. determined the overall acetylation status of S. enterica proteins under fermentable glucose-based glycolysis and under oxidative citrate-based gluconeogenesis [17]. Moreover, those authors demonstrated that key metabolic enzymes of S. enterica were acetylated in response to different carbon sources concomitantly with changes in cell growth and metabolic flux.
In addition to the epigenetic modifications on lysines that occur in chromatin, collagen contains hydroxylysine, which is derived from lysine by lysyl hydroxylase. Furthermore, allysine is a derivative of lysine produced by the action of lysyl oxidase in the extracellular matrix and is essential in crosslink formation and stability of collagen and elastin. Similarly, O-glycosylation of lysine residues in the endoplasmic reticulum or Golgi apparatus is used to mark certain proteins for secretion from the cell. Interestingly, lysine is metabolized in mammals to give acetyl-CoA, via an initial transamination with α-ketoglutarate, which is then utilized as a substrate by KATs. Bacterial degradation of lysine yields cadaverine by decarboxylation. Although histidine and arginine are also basic amino acids, they are not subjected to PTM as is lysine. Taken together, these findings signify that mechanisms regulating metabolism may be evolutionarily conserved from bacteria to mammals. Furthermore, characterization of acetylation-mediated regulatory mechanisms in bacteria would offer new perspectives in advancing our understanding of many hitherto unknown biological processes. In the remainder of this article, we concentrate on a few important proteins that require acetylation to execute their functions and which have been widely investigated but still remain a subject of intense of biochemical research.
The acetylation-directed transcriptional program
Potential of targeting acetylation
The molecular events that follow acetylation could lead to recruitment of either bromodomain-containing proteins or KDACs [9, 35]. Therefore, on the one hand, the enzymes that catalyze acetylation are obvious targets of intervention; on the other hand, proteins that interact with the acetylated-lysine moiety could also be potential targets [35, 96]. With respect to KATs, two natural products, anacardic acid and garcinol (a polyprenylated benzophenone), are reported to inhibit both KAT3A/3B and KAT2B in the 5-10 micromolar range in vitro[97–99]. In contrast, curcumin displays selective activity against KAT3A/3B but not KAT2B [99]. Subsequent studies suggest that anacardic acid may be a broad-spectrum HAT inhibitor, as it also interferes with the KAT5 [100]. Isothiazolones were identified in a high-throughput screen as inhibitors of KAT2B and KAT3A/3B [101]. These compounds could be broadly useful as biological tools for evaluating the roles of HATs in transcriptional studies and may serve as lead agents for the development of novel anti-neoplastic therapeutics. Recent studies show that small molecules designed against the acetyl-lysine-binding hydrophobic pocket of conserved bromodomains affect transcriptional regulation and other cellular processes in cancer cells [102, 103]. Furthermore, small-molecule modulators of KDACs have already emerged as promising therapeutic agents for cancer, cardiac illness, diabetes, and neurodegenerative disorders. Hence, studies focusing on lysine acetylation as well as molecular events that follow acetylation could identify non-histone targets for KAT- and KDAC-modulating compounds as well as illuminate molecular basis of signaling on chromatin and unravel new avenues to improve the efficacy of related therapeutic agents.
Conclusions and future perspectives
Evidently, many acetylated proteins are not only key components within nuclear processes, but also play crucial roles in signaling pathways, such as DNA damage response, immune network and inflammation. This has propelled the idea that instead of phosphorylation being the major contributor, signaling pathways are possibly controlled by the synchronized actions of phosphorylation, acetylation, and several other PTMs. Although acetylation regulates the activity of metabolic enzymes, the role of phosphorylation in conjunction with acetylation in metabolic pathways is not clear. However, what is clear is that lysine acetylation definitely expands the plasticity within the metabolic and cellular signaling networks. This notion is reinforced by the recent analyses of the "lysine acetylome" explicated above, which broadened the scope of acetylation-mediated regulation through an expansive clustering into diverse functional groups. This list offers new insights into the role of acetylation and possible routes to dissect its mechanism, especially in regulation of diseases like cancer and neurodegenerative disorders.
Meanwhile, proteomic surveys by MS will continue to identify new acetylated proteins, which along with efficient mapping of acetylation sites by MS should reveal additional sites [104]. For instance, accumulating studies on p53 acetylation indicate that, subsequent to in vitro biochemical characterization, cell lines and genetically altered mouse models will be especially effective for characterizing the biological functions associated with particular lysine PTMs [105]. Most importantly, such approaches will facilitate mapping within signaling pathways that are regulated by reversible acetylation. One pertinent question is how such modifications interact with other PTMs within the same or different protein(s) and form dynamic programs for regulating cellular functions under normal and pathological settings. Within the acetylproteome, the functional impact of lysine acetylation is context-dependent and varies from protein to protein. As in histones, the molecular interplay of lysine acetylation with other PTMs, either agonistically or antagonistically, generates codified molecular signaling programs that are crucial for governing the functions of various nuclear and cytoplasmic proteins [9, 106–108].
Declarations
Acknowledgements
This work was supported by grants from the National Institutes of Health (S.M). We wish to indicate that some research work could not be referred to in this article due to space constraints. We are thankful to our colleagues for the critical reading of this manuscript.
Authors' Affiliations
(1)
Department of Structural and Chemical Biology, Mount Sinai School of Medicine New York, USA
Copyright
© Patel et al; licensee BioMed Central Ltd. 2011
This article is published under license to BioMed Central Ltd. This is an Open Access article distributed under the terms of the Creative Commons Attribution License (http://creativecommons.org/licenses/by/2.0), which permits unrestricted use, distribution, and reproduction in any medium, provided the original work is properly cited.