Antidiabetic properties of dietary flavonoids: a cellular mechanism review
Nutrition & Metabolism
2015
12:60
Received: 16 September 2015
Accepted: 14 December 2015
Published: 23 December 2015
Abstract
Background
Natural food products have been used for combating human diseases for thousands of years. Naturally occurring flavonoids including flavones, flavonols, flavanones, flavonols, isoflavones and anthocyanidins have been proposed as effective supplements for management and prevention of diabetes and its long-term complications based on in vitro and animal models.
Aim
To summarize the roles of dietary flavonoids in diabetes management and their molecular mechanisms.
Findings
Tremendous studies have found that flavonoids originated from foods could improve glucose metabolism, lipid profile, regulating the hormones and enzymes in human body, further protecting human being from diseases like obesity, diabetes and their complications.
Conclusion
In the current review, we summarize recent progress in understanding the biological action, mechanism and therapeutic potential of the dietary flavonoids and its subsequent clinical outcomes in the field of drug discovery in management of diabetes mellitus.
Keywords
Dietary flavonoidsDiabetes mellitusGlycemic controlInsulin secretionHyperglycemia
Background
Type 2 diabetes mellitus (DM) is characterized by impaired insulin secretion, and increased insulin resistance (or resistance to insulin mediated glucose disposal). DM is possibly one of the world's fast growing diseases [1] and disabling micro and macrovascular complications [2]. It has been estimated that nearly 592 million adults become diabetic patients by the year 2035 due to aging, high population growth size, increased urbanization, high prevalence of obesity, rise in living standards and the spread of calorie rich, fatty and fast foods [3]. Although many drugs are commercially available for treating the diseases, many of them are out of reach for a significant proportion of the population and are beset with some adverse effects [4]. The use of medicinal plants and their phytochemicals for treating diabetes is not just a search for safer alternatives to pharmaceuticals, which transiently lower the blood glucose, preventing heart disease and high blood pressure, and also enhancing the antioxidant system, insulin action and secretion [5]. Phyto-constituents have always guided the search for clinical trials, drug discovery and development. Hence, there is search for dietary constituents as well as natural antioxidants that can regulate blood glucose levels.
In the present review the connection between flavonoids and DM is focused on the basis of recent studies. The anti-diabetic activities of the flavonoids found in dietary plants, fruits, and summarize the underlying molecular signaling of the dietary flavonoids using in vitro and in vivo models to clarify their anti-diabetic effects.
Molecular mechanisms of insulin resistance
The molecular levels, the mechanisms underlying insulin resistance are being explored. Several mechanisms including abnormal insulin production, mutations in insulin receptor (IR) and its substrates, and insulin antagonists have been proposed, but it is now clearly known that defects in post-receptor signaling are the major cause of insulin resistance in target tissues [6]. Reduced expression, diminished tyrosine phosphorylation, or increased degradation of early insulin signaling molecules have been implicated.
Serine/threonine phosphorylation of IRS proteins can inhibit their activity and block downstream signaling. Various kinases including stress - activated protein kinase, c-Jun N-terminal kinase (JNK), inhibitor of nuclear factor kappa B (NF-κB) kinase (IκB), and protein kinase C (PKC) can phosphorylate IRS-1 and 2 at specific serine and threonine residues, leading to inhibition of insulin signaling [7]. Another underlying mechanism is the induction of inhibitory factors such as suppressors of cytokine signaling (SOCS-1 and 3). SOCS proteins block insulin signaling via competition with IRS-1 for association with the IR and by augmentation of proteosomal degradation of IRS-1 [8].
Increased activity of phosphatases which dephosphorylate intermediate signaling molecules can also inhibit the insulin signal pathway [9]. Several phosphatases have been implicated as inhibitors of insulin action. Protein tyrosine phosphatases (eg PTP1B) have negative effects on insulin signaling and are suggested to be major regulators of insulin signaling [10]. Other phosphatases such as phosphatase and tensin homologue (PTEN) which inactivates PI3-K and SH2-containing inositol 5′ phosphatase-2 [SHIP 2] have been shown to have a negative role on insulin signaling [11, 12].
Regulation of lipogenesis in adipocytes
Adipocyte transcription factors such as peroxisome proliferator-activated receptor gamma (PPARγ), sterol regulatory element-binding protein (SREBP-1c), adipokines like resistin, play crucial roles in adipocyte differentiation, adipogenesis, and accumulation of cellular lipid droplets.
PPARγ, a nuclear hormone receptor, is mainly expressed in adipose tissue and to a lesser extent in colon, immune cells and retina [13]. It plays a critical role in peripheral glucose homeostasis and energy metabolism and it also has been implicated in modulating adipogenesis and insulin sensitivity in vivo. PPARγ, induces glucose and fatty acid uptake by directly or indirectly enhancing the transcription of genes encoding proteins such as, fatty acid binding proteins (aP2), GLUT4 [14], fatty acid transport proteins, and acyl-CoA synthetase. Recent studies indicate that partial PPARγ antagonism by various flavonoids may be beneficial in improving insulin sensitivity and may also inhibit adipocyte differentiation and lipid accumulation [15].
Adiponectin is supposed to improve primarily glucose and lipid metabolism. Adiponectin also inhibits the expression of several pro-inflammatory cytokines [16], including tumor necrosis factor. Among other factors released within adipose tissue, tumor necrosis factor alpha (TNFα) promotes lipolysis and increases (free fatty acids) FFAs; both TNFα and interleukin 6 (IL-6) are related to mitochondrial dysfunction. Increased expression of TNFα and relatively low levels of adiponectin promote lipolysis and FFA release.
Leptin is an adipocyte-secreted hormone whose absence leads to dramatic metabolic derangements. Leptin regulates food intake at the level of hypothalamus and stimulates FFA oxidation in peripheral tissues to avoid lipid deposition. Insulin resistance in animal results in hyperleptinemia induces leptin resistance and causes lipotoxicity [17]. Leptin resistance causes a rise in FFA release to circulation followed by triglycerides (TG) synthesis (fatty liver) and decreased FFA oxidation in liver [18].
Flavonoids and their effects on diabetes
Flavonoids represent a large class of at least 6000 phenolic compounds found in fruits, vegetables, nuts, grain seeds, cocoa, chocolate, tea, soy, red wine, herbs and beverage products. Structurally, flavonoids consist of two aromatic rings (A and B rings) linked by a 3-carbon chain that forms an oxygenated heterocyclic ring (C ring). There are six subclasses of flavonoids including flavones, flavonols, flavanones, flavonols, isoflavones and anthocyanidins based on differences in generic structure of the C ring, functional groups on the rings and the position at which the B ring is attached to the C ring. Within each subclass, individual compounds are characterized by specific hydroxylation and conjugation patterns. Flavonoids that have the ability to scavenge free radicals and chelate metals [
19
]. Given the hypothesized relation between diabetes and inflammation [
20
,
21
] and the potential for flavonoids to protect the body against free radicals and other pro-oxidative compounds [
22
,
23
], it is biologically plausible that consumption of flavonoids or flavonoid-rich foods may reduce the risk of diabetes [
24
,
25
]. New concepts have appeared with this trend, such as nutraceuticals, nutritional therapy, phytonutrients and phytotherapy. This functional foods and phytomedicines play positive roles in maintaining blood glucose levels, glucose uptake and insulin secretion and modulating immune function to prevent specific DM [
26
,
27
]. In current years various approaches have been made to utilize the flavonoids in vitro and in vivo models by incorporating few novel methods to improve its antidiabetic activity. They are categorized in Table
1
.
Table 1
Important anti-diabetic potential and the underlying mechanism of dietary flavonoids
Structure of flavonoid (s)

Plants/Dietary source

Specific mechanism of action

Model

References

Diosmin

Scrophularia nodosa L., and citrus fruits

Stimulating the insulin production from the existing β-cells of pancreas.

STZ-nicotinamide-induced diabetic rats.

↓ Lipids profile, improving lipid metabolizing enzymes, antioxidant and ↓ lipid peroxidation.

↓ Blood glucose, lipid peroxides, NO and ↑ body weight.

STZ-induced diabetic neuropathy rats

Jain 2014 [32]

↓ Glycation.

STZ-diabetic rats

Vertommen 1994 [34]

Fisetin

Strawberries, onion and persimmon

Improved glucose homeostasis.

STZ-diabetic rats

Prasath 2014 [38]

↑ Glycolysis, ↓ gluconeogenesis.

STZ-diabetic rats

↓ Blood glucose, HbA1c, NF-κB p65, IL-1β and nitric oxide.

Suppress HATs, particularly p300, leading to deacetylation of the p65 subunit of NF-κB.

THP-1 cell line

Kim 2012 [40]

Reduced cataract formation.

STZ-diabetic cataract in mice

Kan 2015 [41]

↑ HDL, ↓ LDL and VLDL.

STZ-diabetic rats

Prasath and Subramanian 2014 [42]

Stimulate the NF-κB pathway, downregulated of adhesion molecules, inhibition of monocyte-endothelial adhesion.

Human umbilical vein endothelial cells and C57BL/6 mice

Kwak 2014 [43]

Improved glycemic and antioxidant status.

STZ-diabetic rats.

Prasath and Subramanian 2013 [44]

↑ Mitochondrial function.

↓ Level methylglyoxal-dependent protein glycation.

C57BL/6-Ins2 Akita mice

Maher 2011 [46]

Morin

Prunus dulcis (Mill.) D.A. Webb., Chlorophora tinctoria (L.) Gaud., Psidium guajava L., fruits and wine

↑ Insulin sensitivity and ↓ oxidative stress.

HFD-STZ-induced diabetic rats

Sendrayaperumal 2014 [49]

Inhibition of PTP1B, which behaves as an activator and sensitizer of the insulin receptor stimulating the metabolic pathways.

HepG2 cell line

Paoli 2013 [52]

Preventing the destruction of β-cells of the islets of Langerhans.

STZ induced diabetic rats

Vanitha 2014 [53]

Inhibition in ROS generation, translocation of apoptotic proteins, up-regulation of antioxidantgenes and Bcl-2 gene expression.

Hepatocytes cell line

Kapoor 2012 [54]

Eriodictyol

Eriodictyon californicum (Hook. & Arn.) Torr, Millettia duchesnei De Wild., Eupatorium arnottianum Griseb and lemon

↑ Glucose uptake and improve insulin resistance

HepG2 cell line

Zhang 2012 [56]

↓ TNFα, ICAM-1, VEGF, and eNOS.

STZ-induced diabetic rats

Bucolo 2012 [57]

Hesperidin

Orange citrus aurantium

Down-regulates generation of free radical, release of cytokines (TNF- α and IL-1β).

Neuropathy rats

Visnagri 2014 [60]

Anti-angiogenic, anti-inflammatory effects.

STZ-induced diabetic rats.

Shi 2012 [62]

↓ Blood glucose by altering the activity of glucose-regulating enzymes.

STZ-induced type 1 diabetic rats

Akiyama 2010 [63]

Reduced oxidative stress, apoptosis and improving cardiac function via the PPAR-γ pathway.

STZ-isoproternol induced diabetic rats

Yo 2014 [64]

↓ Inflammatory cytokies

HFD-STZ-induced type 2 diabetic rats.

Mahmoud 2012 [65]

↓ HbA1c, glucose, CES LDL, TC, TG levels, systolic and diastolic blood pressure.

STZ-nicotinamide induced myocardial infarction in diabetes in rats

Kakadiya 2010 [66]

Regulation of glucose and lipid metabolism.

Goto-Kakizaki type 2 diabetes rats

Akiyama 2009 [67]

Regulation of glycolysis, gluconeogenesis, hepatic glycogen stores.

C57BL/KsJ-db/db mice

Jung 2014 [68]

↓ Lipid peroxidation, ↑ GSH, GR and GST

STZ-induced diabetes rats

Ashafaq 2014 [69]

Naringenin

Cochlospermum vitifolium (Willd.) Spreng., grapefruits, oranges and tomatoes

Inhibition of intestinal α-glucosidase activity.

High HFD-STZ induced diabetic rats.

Priscilla 2014 [73]

Reduced oxidative damage

STZ-induced diabetes rats

Fallahi 2012 [75]

↓ Cholesterol and cholesterol ester synthesis.

High-fat induced diabetic mice

Mulvihill 2009 [80]

Improved overall insulin sensitivity and glucose tolerance.

Suppressed monocyte chemoattractant protein-1 and inhibition of c-Jun NH2-terminal kinase pathway.

HFD-induced obesity

Yoshida 2014 [82]

↓ Hyperglycemia and ↑ antioxidant enzyme (SOD).

STZ-induced hyperalgesia and allodynia in rats

Hasanein 2014 [83]

Stimulated insulin secretion

INS-1E cells

Bhattacharya 2014 [84]

Decreased fasting glucose and inflammatory cytokines.

HFD-fed mice

Yoshida 2013 [85]

↓ Oxidative stress.

STZ-induced diabetes rats

Rahigude 2012 [86]

Apigenin

Hypericum perforatum L., Matricaria chamomilla L., parsley, onions, oranges, tea, chamomile and wheat sprouts.

↓ Glucose and G-6-Pase activity and ↑ antioxidant enzymes.

Alloxan-induced diabetic mice

Panda and Kar 2007 [88]

↓ Apoptosis, ↑ antioxidant and mitochondrial protection.

HIT-T15 pancreatic β-cells

Suh 2012 [90]

Inhibition TNF-α and IL-1β-induced activation of NF-κB.

Human THP-1 monotypic cells

Zhang 2014 [92]

Inhibition the expression of VCAM1, IKKα and IKKepsilon/IKKi.

Human endothelial cells

Yamagata 2010 [93]

Insulin-secretagogue.

Male Wistar rats

Cazarolli 2009 [94]

Baicalein

Scutellaria baicalensis Georgi and Scutellaria lateriflora L.

Improved glucose tolerance, and islet β-cell survival and mass.

HFD-induced obese mice.

Fu 2014 [97]

Suppressed the activation of NF-κB, ↓ iNOS, TGF-β1, ALP, SGOT and SGPT.

HFD-STZ-induced type 2 diabetic Wistar rats

Ahad 2014 [99]

Reduced AGEs and TNF-α level, decreased NF-κB activation.

STZ-induced diabetic rats

El-Bassossy 2014 [100]

Improvement of insulin resistance, protective by phosphorylating AMPKα AND INS-1.

HFD-induced mice

Pu 2012 [101]

Restored the impairment of PI3K/Akt pathway and ↓ GSK3β.

STZ-induced diabetic Wistar rats

Qi 2015 [102]

Chrysin

Honey, Passiflora caerulea (L.), Pelargonium peltatum (L.), Tilia tomentosa Moench, Pelargonium quercifolium (L.f.) L'Hér. and Pelargonium crispum (Berg.) L'Her

Inhibition of TNF-α pathway, leads to the decreased secretion of pro-inflammatory cytokines.

HFD-STZ-induced type 2 diabetic Wistar albino rats

Ahad 2014 [107]

Downregulated the increased expression of TGF-β, fibronectin and collagen-IV proteins.

↓ Blood glucose, oxidative stress, improved learning and memory function.

STZ-induced diabetic rats

Li 2014 [108]

Luteolin

Celery, parsley, broccoli, onion leaves, carrots, peppers, cabbages and apple skins.

inhibition of the NF-κB pathway.

HFD-induced in obesity mice

Liu 2014 [116]

Increased HO-1 expression and elevated antioxidants.

STZ-Induced Diabetic Rats.

Wang 2011 [117]

Decreased activity of NF-κB was implicated in inhibition by luteolin of increased iNOS.

Min6 insulin secreting cell line

Ding 2014 [119]

Reduced CREB-binding protein/p300 gene expression.

Human monocytic (THP-1) cell line

Kim 2014 [120]

Suppression of hepatic lipogenesis and increased in uptake of FFAs.

HFD-induced C57BL/6 J mice

Kwon 2015 [121]

Up-regulated the myocardial eNOS pathway and downstream effects include the enhancement of MnSOD and inhibition of mPTP.

STZ/L-NAME-induced diabetes rats

Yang 2015 [122]

Reduced mast cell and macrophage infiltrations and inflammatory cytokine levels.

Diet-induced obesity

Xu 2014 [123]

Tangeretin

Citrus fruit rinds, mandarin orange and Poncirus trifoliate (L.) Raf.

Stimulated AMPK activation may be associated with anti-inflammatory.

HFD-induced obese mice

Kim 2012 [124]

↑ Insulin, glycogen.

STZ-induced diabetic rats

Sundaram 2014 [125]

Wogonin

Scutellaria baicalensis Gerogi

Inhibition of p38 MAPK by its specific inhibitor SB203580 increasing PPARα activity and decreasing OPN expression.

STZ induced type 1 diabetes

Zhang 2015 [130]

Anti-adipogenic effect by acting as a PPARα agonist, which could prevent weight gain.

C57BLKS/J-Leprdb/Leprdb mice and 3 T3-L1 cells

Bak 2014 [128]

Isorhamnetin

Hippophae rhamnoides L., Oenanthe javanica (Blume) DC, Ginkgo biloba L., and Opuntia ficus-indica (L.) Mill.

Insulin secretion, associated with increased GLUT2 and PPARγ.

HFD-induced C57BL/6 mice

Rodríguez-Rodríguez 2015 [133]

Inhibition adipogenesis through downregulation of PPARγ and C/EBPα.

3 T3-L1 cells

Lee 2009 [134]

Kaempferol

Tea, cruciferous vegetables, grapefruit, Gingko biloba L., and some edible berrie.

Inhibited cellular apoptosis, and reduced caspase-3 activity in beta-cells.

INS-1E β-cells

Zhang 2011 [139]

↑ Antioxidant and ↓ decreased of lipid peroxidation markers.

STZ-induced diabetic rats

Al-Numair 2015 [141]

↓ PPAR-γ and SREBP-1c expression.

HFD-obese mice

Zang 2015 [143]

Restore deranged activity of membrane-bound ATPases.

STZ-induced diabetes

Al-Numair 2015 [144]

Enhancing β-cell survival, improved cAMP signaling.

INS-1E cells.

Zhang 2013 [145]

↑ GLUT 4, AMPK

HFD-induced diabetic mice

Alkhalidy 2015 [146]

Rutin

Buckwheat, oranges, grapes, lemons, limes, peaches and berries

Inhibited inflammatory cytokines, improving antioxidant and lipid profiles.

HFD-STZ-induced type 2 diabetic model

Niture 2014 [154]

↓ Glucose, TBARS, caspase-3 and ↑ insulin, Bcl-2 protein.

STZ-induced diabetic rat retina

Ola 2015 [156]

Protected pancreatic beta-cell by decreasing oxidative stress.

STZ induced diabetic rats

Kamalakkannan and Prince 2006 [157]

↓ MDA levels and ↑ SOD and CAT.

STZ-induced type 1 diabetic rats

Butchi 2011 [158]

Quercetin

Chokeberries, black currants, apples and cherries

Increased the activity of glycogen synthase, the rate-limiting enzyme of glycogen synthesis.

Murine H4IIE and human HepG2 cells.

Eid 2015 [164]

Inhibition of the two transcriptional factors and the activation of mTORC1/p70S6K.

HK-2 and NRK-52E cells

Lu 2015 [167]

Inhibitory effects on NF-kB and caspase-3 expression.

STZ-induced diabetic rats

Kumar 2014 [168]

Ameliorated hyperglycemia and oxidative stress.

Alloxan induced type 2 diabetic mice.

Alam 2014 [169]

Prevented β-cell death via the mitochondrial pathway and NF-κB signaling.

RINm5F β-cells.

Dai 2013 [170]

Reduced expression of inducible iNOS and inhibited translocation of NF-κB.

Reduced TBARS levels, TC and elevated activities of SOD, CAT, and GSH-Px and HDL-cholesterol.

Diet-C57BL/KsJ-db/db mice

Jeong 2012 [171]

Improved renal function in rats with diabetic nephropathy by inhibiting the overexpressions of TGF-β1 and CTGF.

STZ-induced diabetic rats

Lai 2012 [172]

↓ Glucose and blood HbA1c.

STZ-induced diabetic rats

Kim 2011 [173]

Genistein

Fava bean, soybeans and kudzu.

↑ cAMP signalling ↑ PKA activation.

HG-induced diabetic mice

Babu 2012 [176]

↑ Insulin-positive β-cell.

HFD-induced C57BL/6 mice

Fu 2012 [179]

Activation of ERα seems to stimulate muscular GLUT4 functionality, activation of ERβ.

Zucker diabetic fatty rats

Weigt 2015 [182]

↓ Glucose, HbA1c, C-reactive protein, TNFα and TGFβ1 protein expressions.

STZ-induced diabetes rats

Gupta 2015 [183]

↓ Inflammatory markers and improved oxidative stress.

Alloxan-induced diabetic mice

Kim and Lim 2013 [184]

Improved wound angiogenesis.

STZ-induced type 1 diabetic mice

Tie 2013 [185]

Reduced hyperglycemia via minimization of islet cell loss.

Alloxan-induced Sprague–Dawley rats

Yang 2011 [186]

Reduced glucose tolerance and improved insulin levels.

STZ-induced diabetic mice

Fu 2010 [187]

Inhibition the secretion of ECM components and the expression of TGF-beta.

HG-cultured rat mesangial cells

Yuan 2012 [188]

Suppressed the expression of CCAAT/enhancer binding protein alpha (C/EBPalpha).

3 T3-L1 cells

Zhang 2009 [189]

↓ TGF-β2, αB-crystallin, and fibronectin.

Human lens epithelial (HLE-B3) cells

Kim 2008 [190]

↓ G6Pase, PEPCK and ↑ lipogenic enzymes activities.

Non-obese diabetic mice

Choi 2008 [191]

Daidzein

Soy milk, soybeans and nuts

Potent α-glucosidase inhibitor and suppress the postprandial hyperglycemia.

STZ-induced diabetic mice

Park 2013 [194]

↓ Blood glucose and urinary glucose excretion.

HFD-induced type 2 diabetes

Cheong 2014 [196]

Improved the endothelial dysfunction.

STZ-induced diabetic rats.

Roghani 2013 [197]

↑ IRS-1, GLUT4 and enhanced insulin stimulated glucose uptake.

3 T3-L1and C3H10T1/2 cells

Cho 2010 [198]
Conclusions
The actual antidiabetic prospective associated with flavonoids are usually large as a result of their modulatory effects on blood sugar transporter by enhancing insulin secretion, reducing apoptosis and promoting proliferation of pancreatic β-cells, reducing insulin resistance, inflammation and oxidative stress in muscle and promoting translocation of GLUT4 via PI3K/AKT and AMPK pathways (Fig.
1
). The molecular mechanisms underlying the glucose and lipid metabolism in diabetes would provide new insights in the field of drug development, continue to fuel excitement in this area of research and buoys the hope that future discoveries may one day yield therapeutic benefits. With the rapidly increasing incidence of diabetes worldwide, there is a greater need for safe and effective functional biomaterials with antidiabetic activity. Hence, meticulously intended human studies are needed to further measure the likely connected with a number of nutritional flavonoids to treat diabetes and its complication.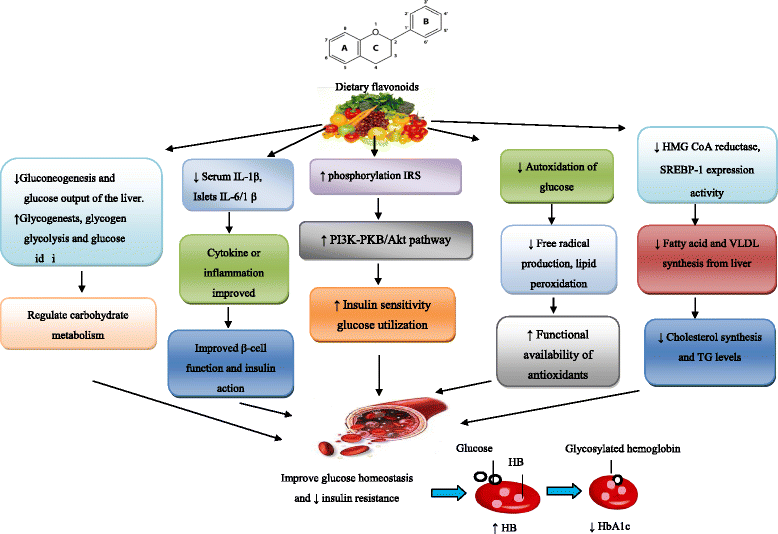 Abbreviations
AGEs:

advanced glycation end products
AKT:

v-akt murine thymoma viral oncogene homolog
AMPK:

5′AMP-activated protein kinase
CAT:

catalase
DM:

diabetes mellitus
eNOS:

endothelial nitric oxide synthase
FFA:

free fatty acid
TG:

triglycerides
GPx:

glutathione peroxidase
GR:

glutathione reductase
GST:

glutathione S-transferase
HB:

hemoglobin
HbA1c:

glycated hemoglobin
HDL:

high density lipoprotein
HFD:

high-fat diet
HG:

high glucose
HMG-CoA:

3-hydroxy-3-methylglutaryl-coenzyme A
ICAM-1:

intercellular adhesion molecule 1
IL-1β:

interleukin-1 beta
iNOS:

inducible nitric oxide synthase
IR:

insulin resistance
IRS-1:

insulin receptor substrate-1
IRS-2:

insulin receptor substrate-2
LDL:

low density lipoprotein
MAPK:

mitogen activated protein kinase
NF-κB:

nuclear factor kappa B
NO:

nitric oxide
PI3K:

phosphatidylinositol-3-kinase
PPARγ:

peroxisome proliferator-activated receptor gamma
ROS:

reactive oxygen species
SOD:

superoxide dismutase
SREBP-1c:

sterol regulatory element-binding protein
STZ:

streptozotocin
TNFα:

tumor necrosis factor α
VEGF:

vascular endothelial growth factor
VLDL:

very low density lipoprotein
Declarations
Acknowledgments
This review work was financially supported by two research grants (R201327 and R201402) from Beijing Normal University-Hong Kong Baptist University United International College, China.
Open AccessThis article is distributed under the terms of the Creative Commons Attribution 4.0 International License (http://creativecommons.org/licenses/by/4.0/), which permits unrestricted use, distribution, and reproduction in any medium, provided you give appropriate credit to the original author(s) and the source, provide a link to the Creative Commons license, and indicate if changes were made. The Creative Commons Public Domain Dedication waiver (http://creativecommons.org/publicdomain/zero/1.0/) applies to the data made available in this article, unless otherwise stated.
Authors' Affiliations
(1)
Food Science and Technology Program, Beijing Normal University–Hong Kong Baptist University United International College, Zhuhai, China