Phytochemicals as novel agents for the induction of browning in white adipose tissue
Nutrition & Metabolism
2016
13:89
Received: 25 August 2016
Accepted: 29 November 2016
Published: 3 December 2016
Abstract
Obesity and its associated metabolic syndrome continue to be a health epidemic in westernized societies and is catching up in the developing world. Despite such increases, little headway has been made to reverse adverse weight gain in the global population. Few medical options exist for the treatment of obesity which points to the necessity for exploration of anti-obesity therapies including pharmaceutical and nutraceutical compounds. Defects in brown adipose tissue, a major energy dissipating organ, has been identified in the obese and is hypothesized to contribute to the overall metabolic deficit observed in obesity. Not surprisingly, considerable attention has been placed on the discovery of methods to activate brown adipose tissue. A variety of plant-derived, natural compounds have shown promise to regulate brown adipose tissue activity and enhance the lipolytic and catabolic potential of white adipose tissue. Through activation of the sympathetic nervous system, thyroid hormone signaling, and transcriptional regulation of metabolism, natural compounds such as capsaicin and resveratrol may provide a relatively safe and effective option to upregulate energy expenditure. Through utilizing the energy dissipating potential of such nutraceutical compounds, the possibility exists to provide a therapeutic solution to correct the energy imbalance that underlines obesity.
Keywords
CurcuminQuercetinResveratrolCapsaicinBrown Adipose Tissue
Background
As the epidemic of obesity continues to grow, adipose tissue has increasingly become an area of focus for researchers. Adipose tissue plays an important role in the human body not just in terms of lipid accumulation but also in its endocrine functions. The expansion of white adipose tissue (WAT) and subsequent changes in circulating adipokines have been implicated in the pathogenesis of obesity [1]. Likewise, the perturbances in the activity of brown adipose tissue (BAT), the energy dissipating organ important for thermogenesis, also play an additional role in driving the obese-state. Because of this, activation of BAT has gained attention as a therapeutic target for obesity recently [2]. Many advancements have occurred in the area of brown fat technology, specifically relating to pathways in which BAT is functionally and physically different from WAT and various strategies that can be used to activate BAT. Discovery of brown adipocyte - like cells interspersed in WAT of human adults, termed beige or brite adipocytes [3], has further increased research investigating methods to activate these cells as an approach towards prevention and treatment of obesity. This review defines the current information on the function of BAT and mechanisms that drive its activation. Further, we will explore the current research on phytochemicals which have shown some promise as thermogenic agents or activators of BAT.
White and brown fat adipogenesis
The life cycle of an adipocyte begins at the stage of a multipotent stem cell, which can differentiate into multiple cell types, including myoblasts and adipocytes. Expression of various transcriptional regulators such as peroxisome proliferator-activated receptor gamma (PPARγ) drives the differentiation of adipocytes. PPARγ is a hormone receptor specific to adipocytes that has been implicated as a key enhancer of adipogenesis. Activation of PPARγ occurs early in the preadipocyte life cycle and is regulated by a variety of lipids such as triglycerides, esters, and sterols [4]. While overexpressed C/EBPβ (CCAAT enhancer binding protein β) has the ability to promote adipogenesis in 3 T3-L1 preadipocytes, the knockout of this gene in conjunction with C/EBPδ results in a decreased number of adipocytes, leading to a reduced adipose tissue mass [5]. The knockout of C/EBPβ gene alone showed little effect on decreasing adipose tissue mass suggesting the redundancy of function by C/EBP family transcription factors. Nevertheless, early expression of C/EBPβ is required for adipogenesis and activates C/EBPα and PPARγ, the key transcription factors that work together to in turn activate a group of genes that promote adipogenesis (reviewed in [6]). The expression of these two genes leads them to positively cross activate one another and perpetuate the adipocyte lineage. Interestingly, PPARγ is not only involved in white adipogenesis but also plays a key role in the induction of brown adipocyte-specific genes (reviewed in [7]).
Unlike the majority of white adipocytes, the adipocytes found in BAT are derived from the Myf5 lineage and thus share a common precursor with skeletal muscle [8]. PR domain containing 16 (PRDM16) is a determining transcription factor for BAT development and overexpression of this protein results in browning of primary visceral preadipocytes [7]. PRDM16 promotes the induction of BAT genes by partnering with peroxisome proliferator-activated receptor γ coactivator (PGC-1) α and β. PGC-1α is a coactivator of PPARγ and it primarily controls mitochondrial biogenesis through the induction of uncoupling proteins such as uncoupling protein 1 (UCP1) [8]. Sirtuin-1 (SIRT1) is another important regulator of thermogenesis and its primary role is to deacetylate PPARγ [9]. Deacetylation of PPARγ is required to recruit PRDM16 which further leads to the induction of BAT genes and repression of WAT genes [7]. Association between these important transcription factors leads to the development and regulation of BAT function.
Not surprisingly, considerable cross-talk in the regulation between BAT and WAT exists where WAT-specific genes downregulate BAT activity. PRDM16 is required for beiging in WAT and the repression of genes that promote WAT development [
7
]. Mice that are deficient in adipose tissue-specific PGC-1α have dulled expression of thermogenic and mitochondrial genes in WAT [
10
]. Lastly, similar adipogenic factors that stimulate the differentiation of WAT such as PPARγ and C/EBPβ, also appear to be the drivers of BAT differentiation and hence are important regulators of adipogenesis for both cell types [
11
,
12
] (Fig.
1
).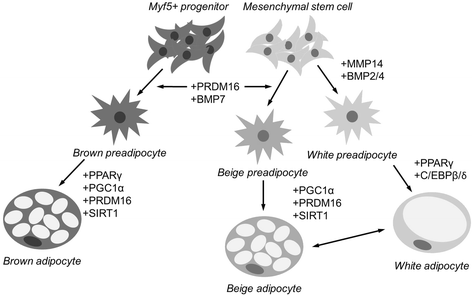 Thermogenesis
Thermogenesis is the process of converting chemical energy into heat. While shivering thermogenesis makes use of rapid muscular twitches to produce heat, BAT is specialized to generate heat in a process called non-shivering or adaptive thermogenesis [13]. BAT plays a pivotal role in protecting animals from hypothermia and is used during the periods of hibernation. It has long been known that BAT is present in newborns, but a number of recent studies conducted through the combined utilization of 18-FDG PET and CT show that human adults do have brown fat [14, 15] paving way to a new area in research relating to metabolic and obesity therapies [16]. The functional properties of BAT that makes it different from WAT mainly come from the lack of a large, unilocular lipid droplet and the presence of numerous mitochondria which allows for the production of energy. Mitochondria in brown adipocytes have low levels of ATP synthase and so cannot utilize the proton gradient of mitochondria to produce ATP. Instead, they employ UCP1 which uncouples cellular respiration and ATP synthesis, and thus results in the production of heat [17]. In vivo studies have shown that mice that lack the Ucp1 gene preferentially express an obese phenotype [18]. These studies show the importance of BAT thermogenesis and its role in preventing obesity.
The sympathetic nervous system plays a significant role in the regulation of BAT thermogenesis. The release of catecholamines such as norepinephrine as a result of sympathetic stimulation from cold induction through the transient receptor potential (TRP) cation channels (members A1, M8, and V1) leads to the activation of the mitochondria in BAT which further leads to heat generation. The subsequent binding of norepinephrine to β-3 adrenergic receptors causes the secretion of free fatty acids from BAT which is the main energy source for UCP1 driven thermogenesis [19].
Thyroid hormone is an additional critical driver of the thermogenic response and brown adipose tissue activation. The conventional signaling cascade for thyroid hormone starts from the release of thyroxin (T4) from thyroid gland upon stimulation by the pituitary. Once released, T4 travels through the bloodstream to target tissues that express the necessary deiodinase (specifically DIO2) for the creation of triiodothyronine T3 [20]. Relative to other tissues, brown fat expresses a relatively large amount of deiodinase [21] and thus is reactive to changes in circulating T4 concentrations, in addition to the sympathetic activation that upregulates deiodinase expression [22]. The UCP1 promoter contains a transcriptional regulatory region for the thyroid hormone receptor β [23]. Thus, thyroid hormone can directly upregulate the expression of UCP1 and serves as a necessary regulator for both brown adipogenesis and thermogenesis. Further, the α-subtype of the thyroid hormone receptor also regulates the expression of the β-adrenergic receptors [24], thereby sensitizing brown fat to sympathetic activation. Secondarily, active T3 can be released from tissues and interact with additional cell types not believed previously to be regulated by thyroid hormone. Of most interest, T3 has demonstrated the ability to activate the ventral medial hypothalamus which serves as a central mediator of the sympathetic nervous system [25]. Through this mechanism, T3 appears to further regulate sympathetic activity and drive the activation of BAT in addition to direct transcriptional control of UCP1. It should be noted that the levels of T3 in BAT is influenced by DIO2 activity, which in turn is inhibited by T4 and activated by adrenergic stimulation. Thyroid hormone and the sympathetic nervous system are thus intimately tied, both co-regulating their respective responses and together drive the body's response to cold [26].
Phytochemicals in obesity
Natural, plant-derived compounds have made up the backbone of many of the synthetic drugs which are used today. The use of natural products for medical purposes dates back thousands of years; however their use in the discovery and development of modern drugs has only occurred since the early 19th century. Nearly 50% of drug approvals in the last 30 years came from compounds that were directly or indirectly derived from natural products [27]. The safety of these synthetic compounds however is hotly debated. Recent drug recalls and fatalities have led to resurgence in research on natural products because of their ease of use and efficacy. In particular, certain anti-obesity medications are removed from market owing to their adverse side effects [28]. In this context, natural products have been studied for their role in the regulation of adipocyte life cycle [29]. Phytochemicals can target different stages in the adipocyte life cycle by decreasing adipogenesis, inducing lipolysis, inducing adipocyte-apoptosis and by inducing transdifferentiation of white to brown-like adipocytes [30]. While the terms nutraceuticals, phytochemicals and bioactives are often used synonymously, it should be noted that phytochemicals are non-nutrient bioactive compounds found in fruits, vegetables and other parts of plants. Nutraceuticals on the other hand are broadly defined as food supplements that are used to improve health. This review focuses primarily on the effects of purified bioactive compounds rather than the plant extracts. In the coming sections, we discuss some of the phytochemicals that have shown promise as activators of BAT or have potential to act as thermogenic agents for future applications in the prevention and treatment of obesity and metabolic syndrome.
Conclusions
Natural compounds have clear stimulatory effects on energy metabolism through direct actions on TRP channels and subsequent sympathetic signaling, intracellular regulation of the SIRT1-PRDM16 pathway and through modulation of thyroid hormone (Fig.
3
). Through these mechanisms, natural compounds can promote chemical uncoupling and energy dissipation in brown adipose tissue that may be able to counteract the loss of function of brown fat seen in obesity. While safety and efficacy will always be in question with nutraceuticals, the specific compounds described herein have been safely used for hundreds of years without major adverse events that render them unsafe for use. Future research is needed to more appropriately answer the questions on efficacy, as some compounds which have the potential to stimulate brown adipose tissue have not been thoroughly investigated alone or in combination with other natural products that may act synergistically. Similarly, few compounds have been used in large, randomized clinical control trials to definitively answer their potential anti-obesity effects. Despite this, the mechanistic data in both cell and rodent models show promise that natural, plant-derived compounds do contain the capacity to promote a beneficial metabolic profile.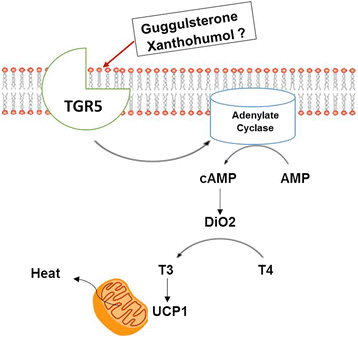 Abbreviations
AMPK:

Adenosine monophosphate-activated protein kinase
BAT:

Brown adipose tissue
C/EBP:

CCAAT enhancer binding protein
DIO2:

Type 2 deiodinase
GS:

Guggulsterone
iNOS:

Inducible nitric oxide synthase
PGC1a:

Peroxisome proliferator-activated receptor γ coactivator
PPAR:

Peroxisome proliferator-activated receptor
PRDM16:

PR domain containing 16
SIRT1:

Sirtuin 1
SREBP1c:

Sterol regulatory element-binding protein 1c
T3:

Tri-iodothyronine
T4:

Tetra-iodothyronine
TBX1:

T-box transcription factor 1
TGR5:

Takeda G-protein coupled receptor 5
TRP:

Transient receptor potential
UCP1:

Uncoupling protein 1
WAT:

White adipose tissue
Declarations
Acknowledgements
The authors would like to thank Philadelphia College of Osteopathic Medicine – GA campus for the research facilities and support through the CSO and CCDA funds.
Authors' contributions
YA and AP performed literature research, wrote and reviewed the manuscript; YA and AP contributed equally to the manuscript. JSS wrote, edited and reviewed the manuscript. CNM and SR reviewed and edited the manuscript. All authors read and approved the final manuscript.
Competing interest
The authors declare that they have no competing interests.
Consent for publication
Not applicable.
Ethics approval and consent to participate
Not applicable.
Open AccessThis article is distributed under the terms of the Creative Commons Attribution 4.0 International License (http://creativecommons.org/licenses/by/4.0/), which permits unrestricted use, distribution, and reproduction in any medium, provided you give appropriate credit to the original author(s) and the source, provide a link to the Creative Commons license, and indicate if changes were made. The Creative Commons Public Domain Dedication waiver (http://creativecommons.org/publicdomain/zero/1.0/) applies to the data made available in this article, unless otherwise stated.
Authors' Affiliations
(1)
Department of Pharmaceutical Sciences, School of Pharmacy, Philadelphia College of Osteopathic Medicine- GA Campus, Suwannee, USA
(2)
Department of Foods and Nutrition, University of Georgia, Athens, USA