Pros and cons of CLA consumption: an insight from clinical evidences
Nutrition & Metabolism
2015
12:4
Received: 20 November 2014
Accepted: 21 January 2015
Published: 3 February 2015
Abstract
This comprehensive review critically evaluates whether supposed health benefits propounded upon human consumption of conjugated linoleic acids (CLAs) are clinically proven or not. With a general introduction on the chemistry of CLA, major clinical evidences pertaining to intervention strategies, body composition, cardio-vascular health, immunity, asthma, cancer and diabetes are evaluated. Supposed adverse effects such as oxidative stress, insulin resistance, irritation of intestinal tract and milk fat depression are also examined. It seems that no consistent result was observed even in similar studies conducted at different laboratories, this may be due to variations in age, gender, racial and geographical disparities, coupled with type and dose of CLA supplemented. Thus, supposed promising results reported in mechanistic and pre-clinical studies cannot be extrapolated with humans, mainly due to the lack of inconsistency in analyses, prolonged intervention studies, follow-up studies and international co-ordination of concerted studies. Briefly, clinical evidences accumulated thus far show that CLA is not eliciting significantly promising and consistent health effects so as to uphold it as neither a functional nor a medical food.
Keywords
Conjugated linoleic acids
CLA
Review
Clinical evidences
Introduction
Conjugated linoleic acids (CLAs) encompass a group of positional and geometric isomers of octadecadienoic acids (18:2) – naturally occurring polyunsaturated fatty acids or PUFA- synthesized in the rumen of cattle, deer, sheep and goat by microbial biotransformation of forage-derived fatty acids (FAs) such as oleic acid (OA), linoleic acid (LA) and
α
-linolenic acid (ALA) ultimately into saturated stearic acid (SA) [
1
,
2
]. Although CLA is formed as an intermediate during ruminal biohydrogenation of OA, LA and ALA, its primary source
in vivo
is endogenous (
de novo
) synthesis by the activity of Δ
9
-desaturase from the monounsaturated FA (MUFA), the vaccenic acid (
trans
-11,18:1; VA), another intermediate in ruminal biohydrogenation [
3
]. It is also synthesized endogenously in humans from dietary VA by the activity of Δ
9
-desaturase [
4
,
5
] (Figure
1
). The Δ
9
-desaturase (also referred to as stearoyl-CoA desaturase; EC 1.14.99.5) catalyzes the addition of a
cis
-9 double bond on the VA, and was shown to be present in several tissues, including the mammary gland, adipose, liver, and intestine; during the process,
cis
-9,
trans
-11-CLA (designated as 9-CLA, the rumenic acid) is formed from VA [
6
]. Thus, VA is the pivotal precursor of 9-CLA in ruminants (probably in mammals too); therefore, an essential FA in humans.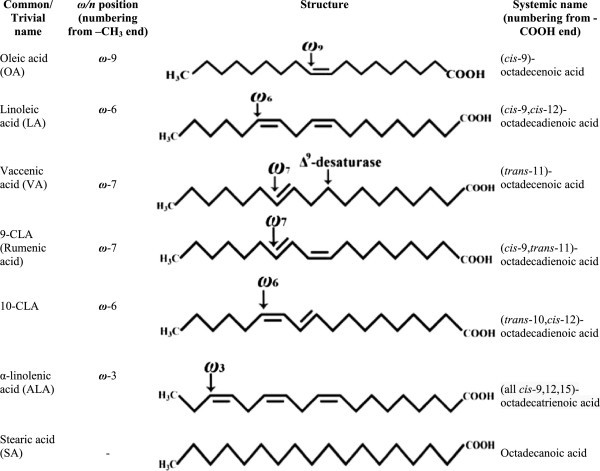 In fact, most of the commercially available CLAs are produced by the alkaline isomerization of LA-rich oils, such as sunflower oil, and tend to contain an equimolar mixture of 9- and 10-CLAs, together with a mixture of variable quantities (up to 30%) of other geometrical and positional isomers of CLA, and that 100% pure CLA isomer is not available on the market [7]. Therefore, the primary focus of all mechanistic, preclinical and clinical studies pertaining to CLA were on 9- and 10-CLAs – especially a mixture of both or rarely one of these two isomers (with others isomers as impurities) [8, 9]. During the past couple of decades, hundreds of reports - principally based on in vitro, microbial, animal, and of late clinical studies on humans - have been accumulating with the highlights of contrasting biological activities of CLA isomers, especially of 9- and 10-CLAs [9, 10].
There has been an overwhelming consumer interest toward the health improving role of specific foods or food components, the so-called 'functional foods' [8]. The term 'functional food' is often used as a generic description for the beneficial health effects of ingested foods that go beyond their traditional nutritive values. The supposed health benefit of CLA was discovered nearly three decades ago, i.e., Ha and his co-workers found that ground beef contained an anti-carcinogenic factor that consisted of a series of conjugated dienoic isomers of LA [11]. As the biomedical studies with CLA expanded, it became apparent that CLA showed a range of positive health effects in experimental animal models. Such supposed beneficial health effects were attributed to suppressing cancer, reducing body fat accretion, delaying the onset of type II diabetes, retarding the development of atherosclerosis, improving the mineralization of bone and modulating the immune system [12–14]. Therefore, CLA-rich foods may be considered as functional foods (a food offers an additional function in the form of health-promotion or disease prevention in combination with some supporting ingredients); and that CLAs per se are neither a food nor a functional food but a FA class with some bioactive properties.
In the light of the aforesaid background, this review critically examines whether the health benefits attributed to CLA on humans are clinically proven or not. Keeping this in mind, this review is categorized into different sections with appropriate illustrations wherever necessary. The thrust areas addressed include: structure of CLA, intervention strategies, physiological effects of CLA consumption associated with diseases such as obesity, cardiovascular disorders, diabetes, cancer, immune disorders; certain adverse effects of CLA consumption such as oxidative stress, abdominal irritations, milk fat depression, insulin resistance, coupled with possible drawbacks such as ignoring the ingredients in placebo; differences in the duration of study, dosage of CLA, food/life styles, and selection of subjects.
Conclusions
As far as the voluminous literature on CLA is concerned, only a few studies to date examined the effects of CLA in humans in vivo. However, results of these studies do not reflect the dramatic and consistent data demonstrated in animal studies. Thus, these disappointing results in humans demand more precise experimentations with humans. The interest in CLA research still persists, and hence, many questions related to the safety and efficacy on the consumption CLA have to be answered scientifically. Hence, it is imperative to critically evaluate and consolidate prominent findings on human consumption of CLA, i.e., the principal actions of this minor lipid nutrient exerting on human system so that future investigations would focus on specific CLA isomers and the most reasonable mechanism of action due to them. One of the major limitations in human studies is that most of the studies depend only on the blood cells or plasma, and fat deposition. Thus, majority of the clinical studies failed to provide conclusive evidences for the effectiveness of CLA on human health, except for anti-obesitic properties which offered a little hope to prevent body weight regain though fat deposition, nevertheless increased oxidative stress and insulin resistance due to such over-consumption of CLA poses contradictory concerns. Moreover, age, gender, genetic polymorphism and immune status of the subject, role of other nutrients present in the diet, and extend of absorption of individual isomers to different tissues have to be well addressed during the intervention period – so as to evaluate the safety and efficacy of CLA consumption on human health. As far as human consumption of CLA is concerned, a definite conclusion for safety and efficacy has not been reached yet. At this context, we strongly recommend the need for more precise and well-designed long-term intervention studies with controlled food intake and activity level to assess the effectiveness of CLA on human health. Moreover, such studies need to be duplicated in other laboratories giving emphasis to men and women, age group, ethnic background, food style, continental and even national uniqueness, cultural and geographic barriers, etc. without comparing data from animal studies – i.e., a real double-blind clinical study. In toto, clinical evidences indicate a possible link of supplemental CLA per se toward negative or inconclusive outcomes; thus, inclusion of CLA in the Codex Alimentarius (Book of Food) – which describes internationally recognized standards of food – may be considered.
Declarations
Acknowledgements
The authors gratefully acknowledge the Department of Biotechnology (DBT), Ministry of Science and Technology, Government of India, for a research grant (No. BT/PR 12714/FNS/20/411/2009).
Authors' Affiliations
(1)
Biotechnology Division, Department of Botany, Enzyme Technology Laboratory, University of Calicut, Kerala, India
(2)
School of Animal and Comparative Biomedical Sciences, University of Arizona, Tucson, USA
(3)
Department of Molecular Biosciences, University of Graz, Graz, Austria
Copyright
© Benjamin et al.; licensee BioMed Central. 2015
This article is published under license to BioMed Central Ltd. This is an Open Access article distributed under the terms of the Creative Commons Attribution License (http://creativecommons.org/licenses/by/4.0), which permits unrestricted use, distribution, and reproduction in any medium, provided the original work is properly credited. The Creative Commons Public Domain Dedication waiver (http://creativecommons.org/publicdomain/zero/1.0/) applies to the data made available in this article, unless otherwise stated.